Published in: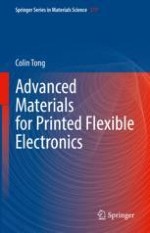 2022 | OriginalPaper | Chapter
1. Fundamentals and Design Guides for Printed Flexible Electronics
Abstract
Three-dimensional (3D) printing, known as additive manufacturing, includes a family of technologies consisting of novel ink materials, flexible substrates, and unique processing methods that can be integrated to create flexible, stretchable, and wearable electronics. These technologies can be used to fabricate components and full systems mainly in a layer-by-layer manner and offer various options regarding cost, feature details, and organic and inorganic materials. The most popular materials are printable organic, inorganic, and hybrid semiconductors with various functional structures (i.e., 1D, 2D and 3D, even 4D), including polymers, metals, composites, ceramics, and nanomaterials. 3D printing enables the creation of complex geometric shapes and merging of selected functional components into any configuration thus supplying an innovative approach for the fabrication of multifunctional end-use devices that can potentially combine mechanical, optical, chemical, electronic, electromagnetic, fluidic, thermal, and acoustic features. On the other hand, rapid advances in modern electronics place ever-accelerating demands on innovation towards more robust and versatile functional components. In the flexible electronics domain, novel material solutions often involve creative uses of common materials to reduce cost, while maintaining uncompromised performance. Moreover, mechanically durable and highly stretchable materials are fundamentally important to the development of flexible and stretchable devices. Therefore, there has been enormous progress in the materials, designs, and associated assembly techniques as well as manufacturing processes for flexible/stretchable electronic systems and subcomponents, such as transistors, amplifiers, sensors, actuators, light-emitting diodes, photodetector arrays, photovoltaics, energy generation and storage devices, and bare die integrated circuits. This chapter will highlight the fundamentals and design guides for 3D-printed flexible electronics, including historical perspectives, printing requirements for printable materials, design strategies, and advanced fabrication technologies for printed flexible electronics.