Published in: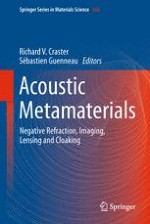 2013 | OriginalPaper | Chapter
1. Fundamentals of Acoustic Metamaterials
Authors : Sébastien Guenneau, Richard V. Craster
Published in: Acoustic Metamaterials
Publisher: Springer Netherlands
Abstract
This chapter introduces the field of acoustic metamaterials in light of correspondences with related phenomena in electromagnetics. The semantic frontier between phononic/photonic crystals (PCs) and metamaterials is underpinned by low-frequency high-contrast and high-frequency homogenization models for periodic structures, the former being well suited for metamaterials, while the latter unveils the band structure and associated anomalous dispersion of PCs. We find it therefore worthwhile to outline the corresponding asymptotic models for waves propagating in such structured media. The mathematics behind the physical scene are illustrated by numerical simulations including cloaking, lensing and confinement effects via artificial anisotropy (motivated by transformational optics and acoustics), negative refraction and slow waves.