11-09-2020 | Production Process | Issue 5-6/2020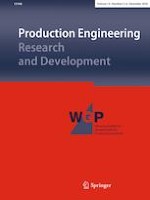 Fusion of physical principles and data-driven based models: an industry 4.0 perspective for improving the polishing process of stoneware tiles
Journal:
Authors:

Fábio J. P. Sousa, Ricardo Halla, Adeilson Souza, Pascal Langlotz, Moritz Glatt, Jan C. Aurich
Important notes
Publisher's Note
Springer Nature remains neutral with regard to jurisdictional claims in published maps and institutional affiliations.
Abstract
Within the Industry 4.0 perspective, this paper investigates the fusion of two theoretical models with different nature, in order to offer a better simulation tool for the industrial sector of polished stoneware tiles. A model based on physical principle, composed by the set of equations that rules the kinematics equations performed by the abrasive tools, was connected to a data-driven model, represented by an artificial neuronal network. The basic idea was to conceive a digital twin of an industrial process capable of considering the scratching speed of the abrasives and their variability in terms of scratching direction, that so far cannot be directly computed by traditional models. The resulting hybrid model was evaluated in terms of determination coefficient, and a series of statistical t-tests were carried out to highlight those most significant differences. It was found that the inclusion of such variables has a significant contribution to the prediction power of the gloss distribution over the polished surfaces.