17-05-2018 | Foundations | Issue 11/2019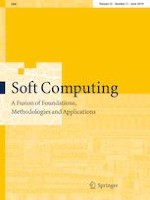 Fuzzy relation lexicographic programming for modelling P2P file sharing system
Journal:
Authors:

Yu-Bin Zhong, Gang Xiao, Xiao-Peng Yang
Important notes
Communicated by A. Di Nola.
Supported by the Natural Science Foundation of Guangdong Province (2016A030307037, 2017A030307020) and the PHD starting Project of Hanshan Normal University (QD20171001).
Publisher's Note
Springer Nature remains neutral with regard to jurisdictional claims in published maps and institutional affiliations.
Abstract
Considering the requirement of the biggest download speed, a Peer-to-Peer (P2P) file sharing system can be reduced into a system of max–min fuzzy relation inequalities. In order to decrease the network congestion under some fixed priority grade of the terminals, fuzzy relation lexicographic programming is proposed to model the P2P file sharing system. For solving the proposed problem, we define concept of feasible index set and discuss some simple properties. Based on the feasible index set, a novel algorithm is developed to find the optimal solution with an illustrative example.