01-05-2017 | Research | Issue 5/2017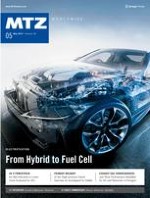 FVV Reports
Journal:
Author:

Petra Tutsch
The scope of the FVV study was to assess a broad variety of current state-of-the-art technology solutions for reducing nitrogen oxide emissions of internal combustion engines by means of a comprehensive literature and patent review. The focus here was on increasing the conversion rates of aftertreatment systems effected at low exhaust gas temperatures. The potential NO
x
reduction measures had been divided into four different categories, i.e. "periphery", "catalysis", "preparation of reducing agent" and "engine internal measures". For each single solution, a detailed technology briefing including pros and cons was prepared to specify its purpose, its mode of operation and its integration into the IC engine system. The assessment of the emission reduction technologies together with their supporting measures was carried out with the help of systematically identified requirements on the engine system and respective boundary conditions. Basically, a distinction was made between the evaluation of the functionality of a technology and its system implementation. Low temperature activity, interaction with the environment, dynamics, long-term durability and the need for exhaust gas recirculation were chosen as essential criteria for assessing its functionality. The system performance of each single technology was assessed against criteria such as fuel consumption / CO
2
balance, serviceability / health and safety, durability / robustness, environment, development effort, implementation effort and suitability for series production. In addition, all technology solutions were evaluated with a view to four different fields of IC engine application, as there are passenger cars, commercial vehicles, nonroad mobile machinery and lean-burn engine driven stationary installations. For this purpose, a reference system for each application was drawn up representing the current state of the art and serving as evaluation basis. Moreover, a series of technologies were identified that have the potential to further enhance the DeNO
x
performance and/or enlarge the working temperature range of a system. Upon completion of the project engine manufacturers, technology providers and research centres have access to a comprehensive common rating matrix plus inherent conclusions on a multitude of technologies enabling the researchers to work on different DeNO
x
solutions in the long term while pursuing individual development targets.
×
...