03-03-2018 | Special Issue 6/2019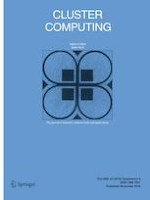 Gabor wavelet multi-linear discriminant analysis for data extraction in ECG signals
Journal:
Authors:

S. Velmurugan, A. Mahabub Basha, M. Vijayakumar
Abstract
Electrocardiogram (ECG) analysis is a common clinical cardiac examination for detecting the cardiac abnormalities. ECG signal has many components and features like P, QRS and T. The waveform with P, QRS and T components are used to identify the cardiac disease. But, the ECG signals are contaminated by the presence of many noise or artifacts. In addition, the data extraction and classification remained challenging issue in ECG signal analysis. In order to improve the data extraction rate and classification accuracy, Gabor Wavelet Multi-linear Discriminant based Data Extraction (GWMD-DE) technique is introduced. Initially in this technique, the preprocessing of ECG signal is carried out using median filter for removing the noise or artifacts. After performing the preprocessing tasks, Gabor Wavelet Transformation is used in GWMD-DE technique for extracting the P, T waves and QRS complex without any component loss from ECG signals resulting in higher data extraction rate. Finally, multi-linear discriminant analysis is performed in GWMD-DE technique for classifying the extracted data as P, T waves and QRS complex with higher classification accuracy. The performance of GWMD-DE technique is measured in terms of data extraction rate, classification accuracy, and execution time. The simulation results show that GWMD-DE technique is able to improve the performance of data extraction rate and also reduces the execution time of data extraction when compared to state-of-the-art works. Moreover, proposed GWMD-DE technique improves the classification accuracy and minimizes the signal-to-mean square error, computational complexity and space complexity when compared to existing methods, Symlets sym5 wavelet function and Hilbert transform based adaptive threshold technique (Lin et al., IRBM 35(6):351–361,
2014
; Rodríguez et al., in IJART 13:261–269,
2015
).