13-11-2018 | Issue 4/2018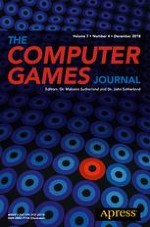 Gaming Sober, Playing Drunk: Sound Effects of Alcohol in Video Games
Journal:
Author:

Peter Smucker
Important notes
All editorial decisions for this article, including selection of reviewers and the final decision, were made by guest editor Dr. Kenny McAlpline.
Abstract
This article develops a framework for associations between sounds, alcohol, and video games. Some recent studies (Olsen, in The video game debate: unraveling the physical, social, and psychological effects of digital games, Routledge, New York, pp 39–53,
2016
; Cranwell et al., Cyberpsychol Behav Soc Netw 19(2):426–434,
2016
) examine representations of drugs and alcohol in video games. While these studies raise serious concerns about drug and alcohol content in games, they primarily focus on the presence and stereotypical use of alcohol, offering limited attention to related sounds and music, or the increased integration between sound design and game-play. Through examples of video games and related media, this article provides historical, cultural, and music-theoretical groundwork for creating an associative soundscape of alcohol in multimedia experiences. After an initial examination of presence and censorship of alcohol content in video games, the article defines and explores four primary categories for representations of sound and alcohol in multimedia: (1) Sound Icons of Alcohol, which highlights sonic objects and their potential interpretive meanings; (2) Sound Environments, which considers cultural appropriations of music and sounds in locations associated with alcohol; (3) Representations of Drinking and Drunkenness, such as the use of specific orchestration or manipulations of musical parameters; and (4) Psychological and Physiological Effects of Sound and Alcohol, which looks specifically at altered sonic perceptions and ludic experiences.