18-03-2019 | Technical Paper | Issue 10/2019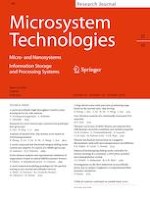 Gas-assisted thermal bonding of thermoplastics for the fabrication of microfluidic devices
Journal:
Authors:

S. R. Mahmoodi, P.-K. Sun, M. Mayer, R. S. Besser
Important notes
Publisher's Note
Springer Nature remains neutral with regard to jurisdictional claims in published maps and institutional affiliations.
Abstract
The challenges for high-strength adhesive-free sealing of thermoplastic microfluidics have impeded commercialization. We present the technique of gas-assisted thermal bonding (GATB) for joining thermoplastic surfaces at elevated temperatures to produce microfluidic devices with low distortion. In this technique a pressurized gas is used to supply the force to bond the two substrates rather than relying on direct contact of thermoplastics with a rigid press. Mechanical characterization tests were performed to analyze and optimize the effect of GATB pressure and temperature on the bonding strength of laminated polymethyl-methacrylate (PMMA) membranes. Tensile tests on PMMA membranes subjected to GATB process conditions examined the effects of these conditions on the single membrane's characteristics. Adhesive strength was assessed on thin PMMA strips bonded together by GATB in lap shear and T-peel test configurations. The maximum lap shear and peel strength were found to occur at the lowest tested pressure of 1.17 MPa based on bonding experiments at 160 °C and 180 °C, respectively. Thereafter, the GATB is compared with the conventional plate-to-plate method to bond a capping sheet on pre-fabricated microchannels. Channel deformation is quantified by cross-section imaging before and after the sealing experiments. It was found that GATB enables low-distortion microchannels with higher uniformity at elevated temperatures, providing a solution for adhesive-free manufacturing of thermoplastic-based microfluidic systems.