Published in: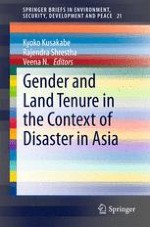 2015 | OriginalPaper | Chapter
1. Gender and Land Tenure in the Context of Disaster
Abstract
Disasters are both physical and social events and their impact is disproportionately borne by the most disadvantaged communities with the fewest resources to mitigate it. Women's reproductive and care responsibilities also increase the impact of disaster. Women also have fewer resources to rely on, which hampers their recovery process. In disaster situations, land rights form a key resource. The vulnerability of people, specifically women, with insecure land rights increases exponentially in a disaster situation. As a result, efforts are underway to formalise land rights of marginalized people and increase joint titling of marital property. The case studies in this book suggest that such well-meaning efforts do not always help women; on the contrary, they increase women's vulnerability to disaster by weakening and eroding their customary land rights. A nuanced approach to gender and land rights would be more useful to women and other disadvantaged groups in the process of disaster preparedness, mitigation and recovery and reconstruction.