01-09-2015 | Foundations | Issue 9/2015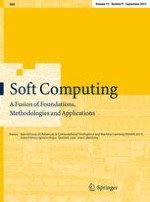 Generators of projective MV-algebras
Journal:
Authors:

Francesco Lacava, Donato Saeli
Important notes
Communicated by A. Di Nola.
Abstract
In the last decade, interest in projective MV-algebras has grown greatly; see Cabrer and Mundici (Algebra Univ 62(1):63–74,
2009
), Di Nola et al. (Int J Approx Reason 47(3):323–332,
2008
) and Di Nola and Grigolia (J Multiple-Valued Logic Soft Comput 9(3):291–317,
2003
). In this paper, we establish a necessary and sufficient condition for
\(n\)
elements of the free
\(n\)
-generator MV-algebra to generate a projective MV-algebra. This generalizes the characterization of the
\(n\)
free generators proved in Lacava (Algebra Univ 57(4):455–462,
2007
). Using this, some classes of projective generators for bigenerated MV-algebras, are given. In particular, some effective procedures to determine, by elementary methods, generators of projective MV-algebras are explained.