01-12-2018 | State-of-the-Art Paper | Issue 1/2018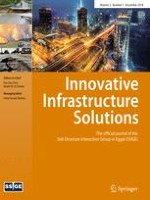 Geosynthetic barriers in regulations and recommendations in line with the ISO design guide?
Journal:
Author:

Kent P. von Maubeuge
Abstract
Over the past 40 years, the advantages in utilizing geosynthetic barriers versus traditional barrier materials have been well documented, e.g. greater project economy, extended service lives, enhanced environmental protection, and greater site safety. Achievements such as conserving water resources and enabling beneficial site reuse have even given geosynthetic engineering a level of social importance. As such, the use of geosynthetic barriers has increasingly been required. This is especially true in modern waste management cell design, a barrier application that has been so successful, and it has influenced the design and specification of geosynthetics into mining, water and wastewater, and industrial applications. However, there are regions and applications in which the use of these barrier technologies should be more widely adopted. This paper highlights an overview of applications where geosynthetic barriers are used and where regulation or recommendations are available. The principles and practices of design using geosynthetic barriers take into account a number of different parameters considered by professionals engaged in the process. A design guide aims to assist the process by identifying the various characteristics of barrier types and comparing them with the requirements of a variety of different applications. It also offers design advice to professionals involved in the design of civil engineering and construction solutions using geosynthetics materials. Overall the intent is to encourage appropriate selection of materials and design methods to suit particular applications, rather than to redesign projects to suit predetermined materials. Many aspects of the design process have been considered as well as the particular parameters of various sites and applications. Further, this paper will describe both the process and outcomes of a new ISO design guide for barrier systems will describe some of the challenges and make recommendations how it can be used to improve regulations.