Published in: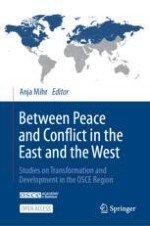 Open Access 2021 | OriginalPaper | Chapter
16. "Glocal" Governance in the OSCE Region: A Research Proposal
Abstract
"Think global, act locally," is the essence of glocalization and of glocal governance. Glocal governance means that local stakeholders, such as business, civil society, city councils, authorities and activists actively participate in decision-making processes. Different stakeholders, local, international and domestic ones, make decisions on common rules and regulations while operating, controlling, implementing and enforcing them locally—and wherever needed. Many of these decisions are taken in light of and in accordance with global or international standards. Such standards can be universal UN human rights norms that are, for example, enshrined in international human rights treaties and agreements, and WTO trade norms on tax regulation or copyrights and laws. Global norms can be international customary law, such as humanitarian law or the law of the sea, general guidelines, recommendations or rules and standards on security and elections as set by the OSCE.