11-04-2021 | Culture and Society | Issue 1/2021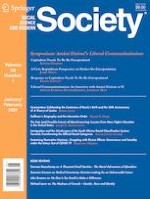 Goffman's Biography and the Interaction Order
Journal:
Author:

Dmitri N. Shalin
Important notes
Publisher's Note
Springer Nature remains neutral with regard to jurisdictional claims in published maps and institutional affiliations.
Abstract
This essay rests on the premise that Goffman's
Behavior in Public Places
can be profitably explored in light of Goffman's own behavior in public places, and vice versa. The tentative conclusion based on available biographical accounts is that Goffman was a student of civility whose standards he flouted, that his demeanor was sometimes intentionally demeaning, his deference willfully deferred, and his incivility painfully obvious to those present. The argument is made that Goffman's infringements on the interaction order were strategic, systematic, theoretically significant, and worthy of close study by interactionist sociologists.