20-04-2020 | Original Paper | Issue 4/2021 Open Access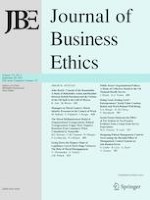 Going Down the Slippery Slope of Legitimacy Lies in Early-Stage Ventures: The Role of Moral Disengagement
Journal:
Authors:

Vasilis Theoharakis, Seraphim Voliotis, Jeffrey M. Pollack
Important notes
Publisher's Note
Springer Nature remains neutral with regard to jurisdictional claims in published maps and institutional affiliations.
Introduction
In building our theoretically based examination of legitimacy lies, we focus on entrepreneurs who engage in explicit and intentional misrepresentation of fact (i.e., lying), because therein resides an interesting question: How are entrepreneurs, who should be bound by moral constraints and treat all their stakeholders ethically, enabled to engage in deception? We provide an answer to this question by proposing a conceptual model that identifies multiple situational and individual psychological factors which enable entrepreneurs to override their internal moral sanctions and engage in deception in their effort to gain venture legitimacy. Here, our work offers many theoretical and practical insights.
In the following sections, we expand on these contributions to the literature. First, we outline the theoretical and practical context of nascent ventures and their pressure to seek legitimacy. Then, we outline our conceptual model that ties situational and individual factors to the mediating role of moral disengagement in the relationship between the need for legitimacy and the intention to tell legitimacy lies, while also accounting for the slippery slope of such a process. In closing, we present the implications of our model.
Theoretical Context: Legitimacy
New venture legitimacy is broadly accepted as a crucial requirement for success and reflects the perception held by resource-holding audiences about the venture's propriety (Uberbacher
2014
). Put succinctly, the undertaking of legitimacy generating activities reduces the threat of venture failure (Delmar and Shane
2004
). The need to seek legitimacy originates from the liabilities of newness (LON) as well as liabilities of smallness (LOS) that plague nascent and emerging ventures (Rutherford et al.
2016
). Overall, stakeholders are hesitant to engage with new and small ventures, which leads to a greater probability that nascent ventures will not acquire the information and needed resources to survive and grow (Bruderl and Schussler
1990
; Kale and Arditi
1998
). Thus, there is pressure on new and small ventures to attain legitimacy by any means possible.
Since investors will reject proposed ventures based on the characteristics of the entrepreneur and management team (Croce et al.
2017
), it is important for a newcomer to gain legitimacy in order to be deemed as an entrepreneur (De Clercq and Voronov
2009
). As a result, entrepreneurs need to surpass the legitimacy threshold that will enable them to receive needed capital and resources (Rutherford and Buller
2007
; Rutherford et al.
2016
; Zimmerman and Zeitz
2002
).
1
The literature has different perspectives as to how new venture legitimacy is achieved (Uberbacher
2014
). One line of thinking is that fortune favors the prepared as demonstrated by the positive relationship between a well-prepared business pitch and venture financing (Pollack et al.
2012
). However, this relationship is fully mediated by cognitive legitimacy which indicates the critical role of legitimacy in the survival of a new venture. We diverge from this approach as we seek to examine the psychological processes affecting the individual entrepreneur who takes an active role in the legitimation process. Thus, the most relevant legitimation perspectives for our study are (i) the micro-cultural, which is based on storytelling, and (ii) the impression management perspective.
Although storytelling and impression management have a great deal in common, entrepreneurial storytelling relates to the development of a new identity rather than the enhancement of an established identity (Lounsbury and Glynn
2001
). Given the fluid or non-existent identity of young entrepreneurial ventures, effectively constructed stories have been empirically found to help entrepreneurs acquire the funds they seek (Martens et al.
2007
). Nonetheless, several studies have also taken an impression management approach for examining new venture financing (Nagy et al.
2012
; Parhankangas and Ehrlich
2014
).
Over time, entrepreneurs become more skillful at building legitimacy: while they initially focus on "what matters to me" they eventually strike a balance with "what matters to me and them" by recognizing the need to address a more diverse audience (O'Neil and Ucbasaran
2016
). However, individuals engage in socially desirable responding (Zerbe and Paulhus
1987
) when they present themselves favorably with respect to current social norms and standards. In this manner, they seek to conform to what is expected by external audiences who are evaluating them and may use impression management in order to deceive (Weiss and Feldman
2006
). In particular, entrepreneurs feel the pressure to demonstrate to external audiences the "propriety" of their new venture by conforming to the standards expected by investors (e.g., high returns) or customers (e.g., unique selling proposition). Overall, the narrative of entrepreneurial stories and impression management activities can be fraught with deceitful practices due to the underlying legitimacy pressures (Pollack and Bosse
2014
) that might make the difference between the survival and death of the venture.
The Unique Context of Early-Stage Ventures
Since what is judged as ethical or unethical depends, to a large extent, on the specific context and individual perceptions (Carlson and Kacmar
1997
), early-stage ventures provide a unique context for examining unethical behavior (Conroy et al.
2017
). Here is what the context looks like.
Imagine an entrepreneur who has an idea and maybe even a sense of how to develop a unique value proposition that can provide substantial customer value. But, in order to execute on this value proposition, the entrepreneur needs to convince key stakeholders to support the nascent venture. As a result, the individual entrepreneur engages in impression management (Parhankangas and Ehrlich
2014
) and storytelling (Garud et al.
2014
) with the purpose of establishing new venture legitimacy. However, the morality embedded in the narrative of these entrepreneurial tales can vary greatly (Smith and Anderson
2004
). Accordingly, as entrepreneurs struggle to survive, they may not benefit from the moral guidance that might be available in established organizations (Ashforth and Anand
2003
), even though not all established organizations are necessarily ethical and entrepreneurs may draw from past experience in established organizations.
2
Under these circumstances, some entrepreneurs may choose to act immorally and lie intentionally if such lies will ensure the survival of the firm, secure the position of the entrepreneur, and increase the public visibility of the firm (Morris et al.
2002
).
In the specific context of nascent ventures, when entrepreneurs engage with investors and prospective customers, informational asymmetries arise which can facilitate deception (Fassin and Drover
2017
; Kriss et al.
2013
). For example, entrepreneurs might understand more about a specific technology and its benefits or may have insights into the market that they choose not to share with stakeholders. Nonetheless, a financial power asymmetry may also exist when potential financiers (e.g., angel investors, VCs), have considerably more financial leverage than the new venture entrepreneurs they are evaluating. This financial power asymmetry further strains the entrepreneur–stakeholder relationship, making entrepreneurs potentially experience high levels of tension in maintaining control of the narrative (Fassin and Drover
2017
). At a time when entrepreneurs lack legitimacy, information asymmetries and a financial power differential create a conducive environment for entrepreneurs to deceive. Overall, entrepreneurs may be tempted to lie due to their motivation to conform to investor expectations and gain the financial resources needed (Pollack and Bosse
2014
). Indeed, Guy Kawasaki—a prominent entrepreneur, author, and investor—is fond of noting that, "If an entrepreneur's lips are moving, they are probably lying" (Alboher
2008
).
Legitimacy Lies and Deception
Rules and Rule-Breaking
Entrepreneurs are sometimes described as rule-breakers who may treat current structure and moral rules as constraints, but without their creative, bold, and devious acts, a number of companies and products would not have existed (Brenkert
2009
; de Vries
1977
). While rule-breaking and breaking the law are different issues, both creativity and immorality may entail some form of rule-breaking, although the former tends to be evaluated positively whereas the latter negatively (Gino and Wiltermuth
2014
). There is also evidence that creative people are more likely to break laws (Cropley et al.
2013
; Sternberg and Lubart
1995
; Sulloway
1996
) or to engage in deception (Beaussart et al.
2013
; Gino and Ariely
2012
).
Therefore, there are practical implications for creative entrepreneurs who often find themselves constrained by moral rules to control any deceptive practices. This is where we focus the remainder of our theorizing as we outline a theory-based model that can account for the phenomenon of legitimacy lies. In sum, it is important that we understand the process that leads otherwise ethical, legitimacy seeking, entrepreneurs to engage in deceptive behaviors. Similar to other studies that have examined unethical behavior (Jones and Kavanagh
1996
), we identify a set of situational characteristics and a set of individual characteristics that enable the entrepreneur to engage in legitimacy lies.
Moral Disengagement
Entrepreneurs with some degree of moral sensitivity will invariably recognize that legitimacy lies are immoral, but may nevertheless engage in the contemplated action provided they overcome their internal moral sanctions and justify to themselves that such action is appropriate. In other words, the external propriety of their venture may be established by a legitimacy lie and the internal propriety of the lie may be established by a psychological process called
moral disengagement
which allows moral sanctions to be lifted (Bandura
1999
; Bandura et al.
1996
; Baron et al.
2015
). Therefore, while a legitimacy lie seeks to establish the propriety of the venture in the eyes of external stakeholders, moral disengagement is the internal psychological mechanism employed by entrepreneurs to establish the propriety of such an immoral act to themselves. Since moral disengagement is used by individuals who would rather not behave unethically, it is a critical and central component of our model—it explains how otherwise honest entrepreneurs succumb to new venture legitimacy pressures and justify their act of embellishing their stories with legitimacy lies.
6
We chose to focus on moral disengagement rather than related concepts such as justification, neutralization, or rationalization because these terms are often used interchangeably. In contrast, moral disengagement appears to be defined more precisely, to be theorized more extensively in psychological terms (Bandura et al.
1996
), and to be well studied in a broad array of domains (Moore
2015
) and entrepreneurship in particular (Baron et al.
2015
). The concept of neutralization was introduced by Sykes and Matza (
1957
) in order to highlight the internal process juvenile delinquents engage in order to overcome self-blame from internalized norms. This is clearly a very similar concept to moral disengagement, if not the same (Ribeaud and Eisner
2010
), albeit stemming from a sociological tradition. Ashforth and Anand (
2003
) use these concepts interchangeably as prospective rationalizations of corrupt behavior. Similarly, Aguilera and Vadera (
2008
) rely on all the above in order to explain how ex ante justifications enable corruption. Interestingly, in his integrative model of ethical decision-making Schwartz (
2016
) invokes both Sykes and Matza (
1957
) and Bandura (
1999
) as a basis of the moral rationalization construct.
Bandura's (1986) systematic treatment of moral disengagement identifies the following types: (a)
euphemistic labeling
, which is simple exaggerations or points of view; (b)
minimization of consequences
, which seeks to demonstrate that the consequences of the proposed act are not serious; (c)
displacement of responsibility
, which seeks to attribute the act to an external cause; (d)
diffusion of responsibility
, which apportions blame to multiple sources; (e)
victim dehumanization or blame
, which attributes the blame to the victim or which denies the victim moral status; (f)
palliative comparison
, which favorably compares the proposed act to much larger wrongs; and (g)
moral justification
, which demonstrates that the proposed act may serve an alternative, and possibly higher, moral purpose. Table
1
gives typical examples of these types of moral disengagement, within the entrepreneurial context.
Table 1
Examples of entrepreneurial moral disengagement
Type of moral disengagement

Entrepreneurial justification

Palliative comparison

Everybody does it

This is nothing compared to what Enron (or XYZ) did

Euphemistic labeling

Not really a fact but an opinion

Minimization of consequences

Investors expect lies and therefore discount them

Displacement of responsibility

Without it we cannot survive in this cut-throat environment

Diffusion of responsibility

All members of our team have agreed to it

Dehumanization

The rich, greedy, and self-centered investors deserve what they get

Blaming the victim

They do not believe us anyway so what is the point of underselling our venture

They should have performed due diligence

Moral justification

We have a responsibility towards our employees (or previous funders) and to each other to do whatever it takes
Overall, with the juxtaposition of legitimacy lies and moral disengagement, we aim to explain what appears to be a paradoxical and interesting situation: when entrepreneurs seek to gain external propriety for their venture by engaging in the improper act of legitimacy lies, this generates the need for internal propriety which can be achieved by moral disengagement. If successful, the process will render the immoral legitimacy lie as proper to the entrepreneur, and in turn the legitimacy lie may render the venture proper to the investor or relevant stakeholder.
Moral Disengagement and Entrepreneurial Deception
Ethical decision-making models explain how an individual may engage in
ethical
behavior despite strong motives to behave otherwise (Jones
1991
; Rest
1986
). However, here we are concerned with
unethical
behavior and, in particular, how an entrepreneur may engage in deception. In a meta-analysis conducted on unethical behavior (Kish-Gephart et al.
2010
), only one of the papers used in the main analysis relates to entrepreneurship (Neubaum et al.
2004
). Also, no references are drawn from a new venture context in a review of (un)ethical behavior (Treviño et al.
2014
). In other words, there appears to be a knowledge gap with respect to the psychological mechanisms that precipitate the entrepreneur's decision to lie, although Baron et al. (
2015
) find that moral disengagement does lead entrepreneurs to unethical decisions.
As noted earlier, Bandura et al. (
1996
) conceptualizes moral disengagement as a process that selectively disengages the moral self-sanctions raised after a negative moral evaluation, and precedes the intention to act immorally. This moral disengagement
process
is modeled as a mediator between the incentive to act immorally and the intention to act (Moore
2015
). It follows that, in the present context, moral disengagement as a process has a mediating effect on the link between the entrepreneurs' need for legitimacy and their intention to employ legitimacy lies. Therefore, given that an increased need for legitimacy is broadly accepted to increase the pressure for deception (Rutherford et al.
2009
), we propose the following relationship (see Fig.
1
).
Proposition 1
Moral disengagement as a process mediates the effect of the need for venture legitimacy on the formation of the intention to lie.
Factors Affecting Moral Disengagement
Extant research on moral disengagement reveals a large number of constructs that affect moral disengagement (Moore
2015
). Overall, we know that outlining the moral disengagement process, encouraging critical thinking, and highlighting harm have the potential to reduce unethical behavior (Gino and Margolis
2011
). Thus, given what we already know, we sought to identify specific constructs relevant for an early-stage entrepreneurial venture context.
We follow other ethical decision-making models and identify situational and individual factors that affect moral disengagement within a new venture context (Schwartz
2016
). We examine how the entrepreneur's process to morally disengage and ultimately express legitimacy lies depends on the situation that may amplify the need for legitimacy and the individual characteristics of the entrepreneur. This is also consistent with the dual role of moral disengagement which "can be understood both as a relatively stable cognitive orientation" which is individual in nature and also "as a state triggered by more immediate contextual factors" (Moore
2015
, p. 202). In our theoretical development, we are guided by Kuratko's (
2007
) editorial about entrepreneurial leadership and his concern about the
darker side
of entrepreneurship which consists of confronting
risk
,
entrepreneurial stress
, and the entrepreneurial
ego
. While Kuratko (
2007
, p. 5) acknowledges that not all entrepreneurs fall victims of the darker side, he claims that it is important to "recognize the idiosyncrasies of entrepreneurial behavior." He describes entrepreneurship as taking place in a chaotic environment where
creativity
and
passion
are portrayed to have a central role in a struggle to
gain resources
through the
presentation of a business plan to investors
.
Thus, on the situational side, we examine (a) financial distress (Proposition
2
), (b) moral intensity (Proposition
3
), and (c) obsessive passion for the venture (Proposition
4
). On the individual-level side, we examine (a) the propensity of an individual to morally disengage (Proposition
5
), (b) the ethical implications of risk-taking as an essential component of entrepreneurial orientation (Proposition 6), (c) the entrepreneur's love of money as a very self-centered view about gaining financial resources (Proposition 7), (d) immoral creativity as a negative use of creativity (Proposition 8), (e) the entrepreneurial ego as represented by the well-established dark personality traits (i.e., psychopathy, Machiavellianism) (Proposition 9a, 9b), and (f) ethical orientation (Proposition 10a, 10b). Finally, we examine the slippery slope of legitimacy lies (Proposition
11
).
Situational Factors of Moral Disengagement
As recently described by Miska et al. (
2018
), we conceptualize the situational context as moderating the process leading to unethical behavior. More specifically, we propose that at the same levels of need for legitimacy, a differing likelihood of moral disengagement will be experienced depending on situational factors.
Financial Distress
The struggle for resources and support are a root cause for entrepreneurial stress which is one of the darker components of entrepreneurial leadership (Kuratko
2007
). While entrepreneurial stress is individual in nature and may also be at play, we focus on the contextual cause that is more objective in nature which directly relates to a venture's lack of resources and support: financial distress. The relevance of financial distress is exemplified by the ubiquitous concern about the "venture's runway," i.e., the months until the venture depletes its cash reserves. When a cash-depleted venture requires a financing round in order to avoid the severe consequences of bankruptcy, partnering with unethical investor becomes considerably more likely (Drover et al.
2014
). This demonstrates that moral standards are more likely to be reduced for the venture in distress. Overall, the occurrence of financial distress is also linked with fraudulent communications and reporting by large public firms (Rezaee
2005
). Financial distress is not treated here as an individual factor because it does not refer to an individual trait that characterizes the entrepreneur, but is rather a situational factor that relates to the venture's financing; such a situation may provide the entrepreneur with ample justification to morally disengage.
Within our context we suggest that, for any given level of need for venture legitimacy, the higher the level of financial distress, the higher the likelihood for engaging in a moral disengagement process. We therefore propose the following:
Proposition 2
Financial distress positively moderates the relation between the need for venture legitimacy and moral disengagement.
Moral Intensity
The importance of entrepreneurs to hold "moral principles" that will help them navigate through the ethical "tenuous balance" they often face when trying to "overcome many of the organizational obstacles" has been noted (Kuratko
2007
, p. 7). Moral intensity is a contextual factor where the characteristics of the issue reflect the "moral imperative in a situation" (Jones
1991
, p. 372) that entrepreneurs may consider when balancing the situation. As it is linked to more sophisticated moral reasoning, Jones (
1991
) decomposes moral intensity into six factors which have different levels of impact (McMahon and Harvey 2006; Tsalikis et al. 2008). One of these factors is the magnitude of consequences as perceived by the moral agent, which Jones defines as "the sum of the harms (or benefits) done to the victim (or beneficiaries) of the moral act in question" (Jones
1991
, p. 374).
Overall, these factors relate to our entrepreneurial context and depend on those who could be harmed. For example, the moral intensity of the situation will depend on if the financiers are professional investors, such as VCs and angel investors, or inexperienced Friends, Family, and Fools (the FFF that often serve as the initial source of funding, and anonymous crowd funding investors). In general, when the investors are FFF who are more likely to be proximate and possibly less experienced, an individual entrepreneur is more likely to experience higher levels of moral intensity (Table
2
). Besides investors, a similar line of thinking applies to the venture's customers where moral intensity would be higher when small, more vulnerable, and familiar customers are involved versus selling to large, well-resourced, and impersonal businesses.
Table 2
Decomposition of moral intensity in an entrepreneurial context
| Moral intensity factor | Level of moral intensity |
| --- | --- |
| Magnitude of the consequence | Higher when dealing with FFF vs. professional investors—FFF are less likely to discount the lie and their investment is likely to represent a larger part of their assets |
| Probability of causing harm | Higher when dealing with FFF vs. professional investors |
| Social consensus | Lower for professional investors who expect legitimacy lies to be part of the landscape, but higher for FFF investors because legitimacy lies breach trust |
| Social, psychological, and cultural proximity | Higher for FFF that are expected to be more proximate, but lower for professional investors and crowd funding investors who are less proximate; proximity with professional investors, may increase depending on the relationship developed |
| Temporal distance | Lower for investors due to the expected lag between financing and investment review milestones |
| Concentration of the effect | Lower for crowdfunding investors and higher for FFF due to the potential number of individuals affected by the deception and lower when entrepreneur views the funding entity as a large anonymous organization with a diverse investment portfolio and higher if it focuses on the small investment team that might be supporting them |
In their meta-analysis, Kish-Gephart et al. (
2010
) confirmed Jones's (
1991
) hypothesis that higher moral intensity decreases the likelihood that an individual engages in unethical behavior. Indeed, the more morally intense a contemplated unethical act is (i.e., the larger, the sooner, or more probable, proximate, concentrated, socially frowned upon its negative consequences are), the more likely it will be for the actor to evaluate it as immoral, and accept responsibility for its consequences. This is likely to raise self-sanctions further, and thus, for any given level of need for legitimacy, the more morally intense the situation the less likely it will be for an entrepreneur to morally disengage. In sum, while this effect is likely to be complicated by the type of investor or customer involved (see Table
2
), we propose the following:
Proposition 3
The moral intensity of the contemplated lie negatively moderates the relationship between the need for venture legitimacy and moral disengagement.
Obsessive Passion for the Venture
Kuratko (
2007
, p. 3) provides a definition of entrepreneurship that highlights it as a dynamic process which requires passion. The passion displayed by entrepreneurs is one of the most frequently observed phenomena of the entrepreneurship process (Smilor
1997
). Entrepreneurial passion is also a key element that investors seek when making new investment decisions (Murnieks et al.
2016
). Overall, entrepreneurial passion is linked with entrepreneurial effectiveness by enhancing goal-oriented cognitions (e.g., goal commitment) and entrepreneurial behaviors (e.g., creative problem solving, persistence) (Cardon et al.
2009
). However, the purported positive effects of passion may mislead investors into indiscriminately seeking passionate entrepreneurs, notwithstanding that passion may actually not yield benefits or can even have "debilitating" effects (Cardon et al.
2005
; Ho and Pollack
2014
).
It is also important to clarify that passion as described by the dualistic model of passion is not a general trait but depends on the activity itself (Vallerand et al.
2003
). More specifically, passion for an activity can be an autonomous process that results in harmonious passion or be an uncontrolled process that takes the form of obsessive passion. While harmonious passion reflects that the person has freely chosen the activity which is in harmony with other aspects of the person's life, obsessive passion reflects a compulsion to engage in the activity. Although one would expect the former to be a more sustainable and desirable form of passion, angel investors demonstrate a preference for obsessive passion over harmonious passion when they evaluate a proposed venture (Murnieks et al.
2016
). On the other hand, entrepreneurs who are obsessively passionate with a particular venture are less likely to be approached by peers and receive less business income and less referrals in contrast to entrepreneurs who are harmoniously passionate with a venture and received more referrals and business income (Ho and Pollack
2014
). Further, entrepreneurs who are obsessively passionate with a venture are more likely to engage in unethical pro-organizational behavior while those with harmonious passion are more likely to abstain from it (Kong
2016
).
Following the dualistic model of passion, we consider obsessive passion to be contextual: it is not a personal trait that characterizes an entrepreneur across all life activities or ventures, but is specific to the venture at the time of examination. For example, an entrepreneur involved in different ventures does not necessarily share the same obsessive passion across ventures. Further, the obsessive passion of an entrepreneur may also change even for the specific venture across time: in the event of a significant stock dilution or increased control by investors, the entrepreneur might lose their obsessive passion that characterized them during earlier stages. Overall, we expect that due to their obsessive passion with the specific venture, the entrepreneur is more likely to prioritize the venture's viability over moral constraints. Therefore, for any given level of venture legitimacy need, the more obsessively passionate entrepreneur may be more likely to disengage morally in order to overcome their self-sanctions. Accordingly, we propose the following:
Proposition 4
Obsessive passion for a venture positively moderates the relationship between the need for venture legitimacy and moral disengagement.
Individual Factors of Moral Disengagement
We now consider how entrepreneurs' psychological traits may affect the ease of moral disengagement which in turn affects the likelihood of legitimacy lies. We focus on the effect that propensity to morally disengage, risk orientation, love of money, immoral imagination, and the Dark Triad of personality traits (i.e., narcissism, psychopathy, and Machiavellianism) have on moral disengagement.
The Slippery Slope of Legitimacy Lies
Despite their obvious importance, the dynamics of deception have received limited attention in the literature.
8
One aspect of the dynamic nature of deception concerns its escalation over time and the other concerns the continuity or abruptness of such an escalation. These two aspects often get conflated, as in Levi's (
2008
) conceptualization of the
slippery slope
as the spiraling of deceptions. This perspective is widely shared since the escalation of corruption in organizations has been identified as being dynamic: the rationalization of an initial unethical act enables the enactment of a more serious corrupt act (Zyglidopoulos et al.
2009
).
Fleming and Zyglidopoulos (
2008
) identify two escalation mechanisms among managers that are also relevant to our present focus: (a) the cover up of past lies, and (b) the routinization of deception rationalization. This is consistent with the view that individuals can become accustomed in employing moral disengagement resulting in habitual use that ultimately influences what they consider as being morally acceptable (Moore et al.
2019
). Further, Garrett et al. (
2016
) offer a neurobiological basis for the slippery slope of deception as the human brain adapts to dishonesty; a gradual increase in self-serving deception is accompanied by a signal reduction in the amygdala.
Overall, in the
slippery slope
metaphor the ethical standards of the subject's behavior slip gradually after a series of small transgressions which escalate over time (Welsh et al.
2015
) so it is not a single event that makes one come to the realization that they are acting unethically (Arjoon
2008
). Finally, the fact that while sliding down the slippery slope the subject becomes unaware of the moral infractions (Campana
2016
) indicates that the slippery slope dynamic induces forgetting of moral rules. In particular, prior cheating leads to the forgetting of moral rules and ethical boundaries (Shu and Gino
2012
) and makes subsequent moral disengagement more likely (Shu et al.
2011
). This has led researchers to explicitly refer to the existence of a positive "feedback loop" when describing the psychological mechanism of the slippery slope in general (Corner et al.
2011
) or in the context of moral disengagement (Moore and Gino
2015
; Shu and Gino
2012
; Shu et al.
2011
) and escalation of deception (Fleming and Zyglidopoulos
2008
). Thus, a positive relationship between legitimacy lies and subsequent moral disengagement is expected, leading us to propose that:
Proposition 11
Prior legitimacy lies will have a gradual positive effect on the moral disengagement of subsequent legitimacy lies.
The above proposition is reflected in our conceptual model with a path from (previous) legitimacy lies to the (current) contemplation to morally disengage for a new legitimacy lie (see Fig.
1
).
Discussion
Compliance with Ethical Standards
Conflict of interest
The authors declare that they have no conflict of interest.
Research Involving Human Participants or Animals
This article does not contain any studies with human participants or animals performed by any of the authors.
Open Access
This article is licensed under a Creative Commons Attribution 4.0 International License, which permits use, sharing, adaptation, distribution and reproduction in any medium or format, as long as you give appropriate credit to the original author(s) and the source, provide a link to the Creative Commons licence, and indicate if changes were made. The images or other third party material in this article are included in the article's Creative Commons licence, unless indicated otherwise in a credit line to the material. If material is not included in the article's Creative Commons licence and your intended use is not permitted by statutory regulation or exceeds the permitted use, you will need to obtain permission directly from the copyright holder. To view a copy of this licence, visit
http://​creativecommons.​org/​licenses/​by/​4.​0/​
.
Publisher's Note
Springer Nature remains neutral with regard to jurisdictional claims in published maps and institutional affiliations.