2020 | OriginalPaper | Chapter
Governance for Urban Services: Towards Political and Social Inclusion in Cities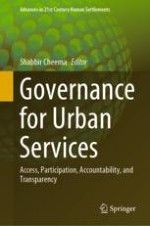 Author: Shabbir Cheema
Publisher: Springer Singapore
Abstract
Cities provide opportunities for economies of scale, products, income, services and social experimentation. However, urbanization has led to an increasing incidence of urban poverty and inequity, deteriorating quality of the urban environment and deficiencies in access to basic urban services, including water supply and sanitation, urban shelter, waste management, energy, transport and health. This chapter provides a framework to examine the role of urban local governance in promoting access to services, participation in local decision making and accountability and transparency. It presents challenges and opportunities of urbanization (Sect.
1
), the paradigm shift in our thinking about development from economic growth focus to poverty alleviation and human development and about governance from traditional public administration to democratic governance in developing countries (Sect.
2
), and forms, driving forces and impacts of decentralizing governance (Sect.
3
). After defining access, participation, accountability and transparency, the chapter identifies four sets of intermediate-term outcomes of local governance for urban services (Sect.
4
) and key features of "good" urban governance and policy challenges identified in the New Urban Agenda endorsed by HABITAT III (Sect.
5
). Finally, it describes key themes and findings of each of the book chapters that follow (Sect.
6
).