08-12-2018 | Original Paper | Issue 3/2020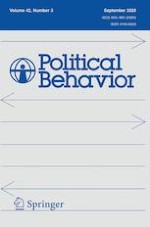 Grand Old (Tailgate) Party? Partisan Discrimination in Apolitical Settings
Journal:
Authors:

Andrew M. Engelhardt, Stephen M. Utych
Important notes
Electronic supplementary material
We thank Cindy Kam, the anonymous reviewers, and participants at the 2017 Midwest Political Science Association Meeting for helpful feedback and comments. Replication data and code are available at:
https://​doi.​org/​10.​7910/​DVN/​8AJYXZ
.
Abstract
Recent work in political science demonstrates that the American public is strongly divided on partisan lines. Levels of affective polarization are so great, it seems, that partisanship even shapes behavior in apolitical settings. However, this literature does not account for other salient identity dimensions on which people make decisions in apolitical settings, potentially stacking the deck in favor of partisanship. We address this limitation with a pair of experiments studying price discrimination among college football fans. We find that partisan discrimination exists, even when the decision context explicitly calls attention to another social identity. But, importantly, this appears to function mostly as in-group favoritism rather than out-group hostility.