06-04-2021 | Issue 1/2021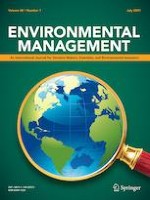 Grassroots Approaches for Sustaining Biocultural Diversity and Livelihood Security: Insights from Indian Eastern Himalaya
Journal:
Authors:

Ranjay K. Singh, Anshuman Singh, Lobsang Ksherchokpa, Orik Rallen, Bamang Taniang, Yanung J. Lego, Egul Padung, Arvind Kumar, Hui Tag, Volker Mauerhofer
Important notes
Supplementary information
Publisher's note
Springer Nature remains neutral with regard to jurisdictional claims in published maps and institutional affiliations.
Abstract
Bioculturally significant plants, which have played a key role in sustaining the livelihoods of tribal communities of Arunachal Pradesh, India, are facing threats from changing land use patterns, climatic aberrations and socioeconomic stressors. This study highlights two unique grassroots approaches to conserving these species and their associated cultural knowledge within the traditional land use systems of Arunachal Pradesh:
Community Knowledge Gardens
(CKGs) and
Clan Reserve Forests
(CRFs). Four CKGs and one CRF, transformed from existing traditional land use systems, were investigated in three socio-ecologically diverse landscapes of
Nyishi, Adi
and
Monpa
communities. Study participants, including both men and women, played an active role in devising locally compatible criteria and protocols for strengthening the conservation of key plant species within their traditional land use systems, through CKG and CRF approaches. A total of 86 plant species, conserved through the CKGs and 44 from the
Adi
CRF, were identified as having high food, ethnomedicinal and cultural values. The Shannon-Weaver index of richness of plant species conserved was highest in the
Nyishi
CKG, with a value of 38; while for
Adi
and
Monpa
it was 30 and 18, respectively. The pattern of Shannon-Weaver diversity index was in the order of 2.91, 2.64 and 2.63, respectively for the CKGs of these three communities. In comparison to individual CKGs, relatively higher species diversity (3.18) was found in the
Adi
CRF. Increased sharing of traditional knowledge among the community members, regular incomes and equitable sharing of the tangible and intangible benefits of using plant species were identified as important success indicators of the CKGs and CRF. In addition to providing valuable insights on biocultural knowledge and enabling the participants to strengthen their existing local land use practices for conserving valued plant biodiversity, the study outcomes have the potential to inform and strengthen the policies on environmental sustainability.