Published in: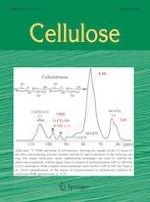 24-01-2022 | Original Research
Green nanoarchitectonics for next generation electronics devices: patterning of conductive nanowires on regenerated cellulose substrates
Published in: Cellulose | Issue 4/2022
Login to get access
Abstract
Regenerated cellulose (RC)-based materials, a major biomass resource, have been widely used in various applications, owing to their degradability, sustainability, and green nature. Here, we constructed silver nanowire (AgNW)-based conductive microelectrodes on various RC substrates. The AgNW patterns on glass substrates fabricated by polyethylene glycol photolithography were transferred onto the RC hydrogel surface by the coagulation and regeneration of the cellulose solution. The dried AgNW-patterned RC films exhibited a high optical transmittance of 79% at 550 nm, an excellent tensile strength of 210 MPa, and excellent sheet resistance of 1.03 Ω/sq. Moreover, they exhibited good adhesion stability and excellent bending durability, compared to AgNW-coated/patterned polyethylene terephthalate films. After 5000 bending and 30 peeling test cycles, no significant increase in the sheet resistance was observed in the AgNW-patterned RC films. The AgNW-patterned RC films were converted into the AgNW-patterned RC hydrogel films by a spontaneous swelling process in an aqueous solution. This conductive hydrogel film can be used as important components, such as the membrane and coating in bioelectronics interfaced with biological systems. We anticipate that this approach combined with conductive AgNW patterns and ecofriendly RC substrates can render these microelectrodes suitable candidates in the development of next-generation green electronics and high-performance bioelectronics.