2020 | OriginalPaper | Chapter
6. Group Behavior Recognition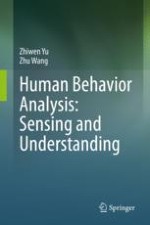 Read first chapter
Authors: Zhiwen Yu, Zhu Wang
Publisher: Springer Singapore
Abstract
Compared with individual behavior sensing and understanding, the recognition of group behavior is more challenging. In this chapter, we present some of our recent progress on group behavior sensing and recognition. Specifically, in Sect.
6.1
, we discuss how to recognize the mobility level and structure of groups in the physical world by leveraging mobile devices. Afterwards, we present the recognition of human semantic interactions and group interaction patterns in smart spaces in Sects.
6.2
and
6.3
. Finally, we discuss how we can organize, suggest, or predict group activities by leveraging the power of mobile crowdsensing and mobile social networking in Sects.
6.4
and
6.5
.