02-05-2019 | Hauptbeiträge - Thementeil | Issue 2/2019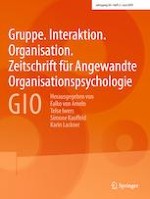 Guiding Change: Using Motivational Interviewing Within Organizations
Journal:
Authors:

Amelie V. Güntner, Paul C. Endrejat, Simone Kauffeld
Abstract
This contribution to the journal "Gruppe. Interaktion. Organisation. (GIO)" portraits Motivational Interviewing (MI) as a useful communication approach for evoking change readiness among employees. In today's complex and dynamic business environment, organizations should be capable of adaptively responding to external demands. Such an organizational setup requires employees to constantly cope with change. However, eliciting change-supportive mindsets and behaviors is challenging. First, to better understand employees' psychological responses when confronted with change, we review change-related attitudes, whereby we emphasize ambivalence as employees' most common response when confronted with change. Next, we explain how the MI spirit, the MI process, and methods used by MI practitioners form the MI
gestalt.
Furthermore, to illustrate how MI extends existing inquiry approaches, we discuss how the focus of MI on the language of change may help to improve change agents' communication skills and make MI an evidence-based communication approach. Moreover, we exemplify how MI can be applied at the individual, group, and organizational levels. For these practical applications, we note how MI can improve existing management practices such as appraisal interviews (individual level), team meetings (group level), and job crafting (organizational level). Finally, we outline the questions that further research needs to address to better understand how MI can be more effectively interwoven into organizational structures.