01-09-2019 | In the Spotlight | Issue 9/2019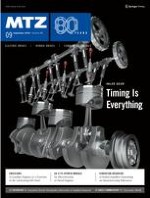 Has Hydrogen Taken off?
Journal:
Author:

Richard Backhaus
In the context of alternative drive systems, any mention of hydrogen is generally assumed to be a reference to fuel cells. However, the fact that hydrogen can be used as a fuel in combustion engines is often forgotten. Following the introduction by the EU of new CO 2 emissions targets for commercial vehicles, this concept could undergo a renaissance. ...