01-09-2020 | Original Article | Issue 18/2020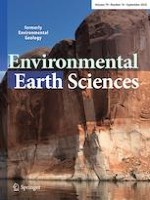 Health risk assessment of toxicants in Meriç River Delta Wetland, Thrace Region, Turkey
Journal:
Authors:

Cem Tokatli, Fikret Ustaoğlu
Important notes
Publisher's Note
Springer Nature remains neutral with regard to jurisdictional claims in published maps and institutional affiliations.
Abstract
In the current research, water quality of Meriç River Delta was evaluated using some toxic element risk assessment indices. Samples were collected from 24 locations and nickel (Ni), chromium (Cr), arsenic (As), zinc (Zn), lead (Pb), copper (Cu) and cadmium (Cd) accumulations in delta components were read using an ICP-MS. Water quality index (WQI), heavy metal pollution index (HPI), heavy metal evaluation index (HEI) and degree of contamination index (
C
deg
) were applied to detected data for assessing the water quality. Also, the toxic element concentrations in water were assessed in terms of public health using some health risk assessment methods including hazard index (HI), hazard quotient (HQ) and cancer risk (CR). According to the results of WQI, HPI, HEI and
C
deg
, Ni and As were recorded as most dangerous toxicants among the investigated elements and Gala Lake was recorded as most effected delta component. According to the results HQs and CR, As was recorded as the most dangerous toxicant among the investigated elements and Gala Lake and Ergene River were recorded as the most effected delta components.