05-03-2021 | Issue 5/2021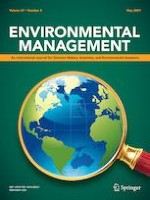 Heavy Metal and Mineral Composition of Soil, Atmospheric Deposition, and Mosses with Regard to Integrated Pollution Assessment Approach
Journal:
Authors:

Sibel Mentese, Özlem Tonguc Yayintas, Batuhan Bas, Latife Ceyda İrkin, Selehattin Yilmaz
Important notes
Supplementary information
Publisher's note
Springer Nature remains neutral with regard to jurisdictional claims in published maps and institutional affiliations.
Abstract
The fact that there are no real borders between the biosphere, atmosphere, lithosphere, and hydrosphere means that environmental pollution monitoring studies should not only include one of the environmental spheres. Thus, integrated environmental pollution assessment studies conducted in the biosphere, lithosphere, and atmosphere promote the "whole system" approach. In this study, the aim was to determine the pollution in the atmosphere, soil, and plants by taking advantage of the high pollution accumulation characteristics of the mosses. Prevailing wind has the potential to distribute pollutants emitted into the air throughout its path. With this regard, soil, mosses, and atmospheric deposition samples were collected in Çanakkale, Turkey, in two seasons. Concentrations of selected elements were measured by Inductively Coupled Plasma-Mass Spectrometry. The enrichment factor of the selected elements in the soil, moss, and deposition samples was calculated. The highest enrichments were found for Lead in atmospheric deposition, Arsenic in soil, and Mercury in moss samples. Cobalt and chromium accumulated more in mosses than in soil. Elevated arsenic levels found in the samples can pose a great risk for public health and agriculture. The study result showed that the elemental composition of the samples was influenced by the enhanced air plume dispersion of anthropogenic pollution sources along the Northeast-Southwest directions due to wind characteristics in the province. As expected, strong correlations were found among the moss, soil, and atmospheric deposition samples indicating the vital interactions between the environmental components.