Published in: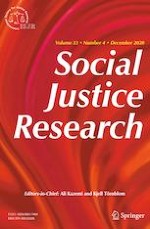 11-09-2020
"Here, It's Like You Don't Have to Leave the Classroom to Solve a Problem": How Restorative Justice in Schools Contributes to Students' Individual and Collective Sense of Coherence
Published in: Social Justice Research | Issue 4/2020
Login to get access
Abstract
Students face innumerable stressors, in and outside of schools. Some schools are better able to support students to thrive, individually and collectively, in the midst of these stressors. Drawing on a qualitative case study of a restorative justice approach in a Canadian primary school, this article explores the role of restorative justice in facilitating student well-being. To interpret this research, I mobilize Antonovsky's (Health, stress and coping. Jossey-Bass Publishers, San Francisco, 1979) "sense of coherence" concept: individuals are most likely to thrive when they perceive their lives as comprehensible, manageable and meaningful. Based on the data, I argue that the Canadian school's restorative justice policies and practices helped students make sense of complexity within their school lives, building within them a strong sense of individual and collective coherence.