26-06-2020 | Original Research | Issue 13/2020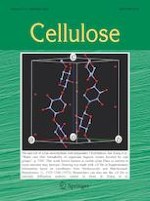 Heteroacoagulation of lignocellulose fibers-based biotemplates and functionalized TiO2 nanoparticles to tailor film microstructures
Journal:
Authors:

Z. Gonzalez, J. Yus, Y. Bravo, A. J. Sanchez-Herencia, A. Rodríguez, J. Dewalque, L. Manceriu, C. Henrist, B. Ferrari
Important notes
Publisher's Note
Springer Nature remains neutral with regard to jurisdictional claims in published maps and institutional affiliations.
Abstract
The heterocoagulation of lignocellulose nanofibers (LCNFs) with functionalized TiO2 nanoparticles (NPs) is presented as an innovative revalorization strategy for the exploitation of lignocellulose wastes. Their use as bio-templates could be considered a promising alternative in a current biorefinery scheme, since the massive production of porous materials in numerous nanotechnological applications, could offer new alternatives of exploitation. The surface modification of TiO2 NPs by adsorption of polyetilenimine (PEI) favors its anchorage with LCNFs through a peptide bond during heterocoagulation in aqueous suspension. The functionalization of LCNFs with TiO2 NPs results in organic–inorganic core–shell nanostructures, used to shape coatings by dipping, and sinter them at low temperature (450 °C). In this process, the LCNFs were used as endo-templates for shaping stable porous coatings, when they burn during the consolidation of the inorganic structure. In this work, the successful inclusion and homogeneous distribution of biomaterials (LCNF templates) in the semiconductor inorganic microstructure is discussed in terms of dye loading (by UV–Visible Spectroscopy), photovoltaic efficiency and charge transfer (by Electrochemical Impedance Spectroscopy, EIS) in a Dye Sensitized Solar Cell (DSSC). Results confirm that the TiO2/template network yielded better photoefficiency and electron transport properties than mesoporous films assembled only from TiO2 NPs. The preparation of TiO2-based photoanodes with enhanced performance (with an efficiency value around 6%, for a thickness of 8.7 µm) allows validating the successful colloidal procedure herein employed.