Published in: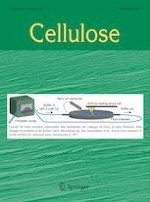 21-01-2022 | Original Research
Highly antibacterial hydrogels prepared from amino cellulose, dialdehyde xylan, and Ag nanoparticles by a green reduction method
Published in: Cellulose | Issue 2/2022
Login to get access
Abstract
Hydrogels with antibacterial activity have attracted more and more attention in the wound dressing area. Here, we developed antibacterial hydrogels directly from cellulose, xylan, and silver nitrate via a three-step process, involving chemical modification, Schiff-base reaction, and green reduction reaction. Amino cellulose (AC) and dialdehyde xylan (DAX) were prepared by chemical modification. Then, they were cross-linked by Schiff-base bonds (C = N bonds) to prepare AC-DAX hydrogels. The crosslinking density and porosity of AC-DAX hydrogels were significantly influenced by the mass ratios of AC to DAX. The AC-DAX-Ag hydrogels were synthesized by the reduction reaction of the C = N bonds without adding additional reductants. The demonstrated AC-DAX hydrogels and AC-DAX-Ag hydrogels showed similar layered surface structure and swelling capacity. In addition, AC-DAX-Ag hydrogels exhibited excellent antibacterial activity against
E. coli
with an obvious inhibition zone diameter about 0.50 cm. The developed AC-DAX-Ag hydrogels with antibacterial activity represents an attractive alternative to the wound dressing materials toward biomedical area. This work provides new ideas for the fabrication of bio-based antibacterial material.