10-10-2019 | Chemical routes to materials | Issue 5/2020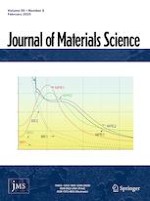 Highly efficient Z-scheme g-C3N4/ZnO photocatalysts constructed by co-melting-recrystallizing mixed precursors for wastewater treatment
Journal:
Authors:

Xiuling Guo, Jihai Duan, Chaojie Li, Zisheng Zhang, Weiwen Wang
Important notes
Publisher's Note
Springer Nature remains neutral with regard to jurisdictional claims in published maps and institutional affiliations.
Abstract
Due to the powerful functions of photocatalytic technology in degrading organic pollutants by using sunlight, the development of photocatalytic materials with visible light response has received great attention in order to meet the requirements of energy saving and emission reduction. Herein, we synthesize a new type of composite photocatalyst composed of graphite-like C3N4 and ZnO by co-melting-recrystallizing the precursors of two pure catalysts at 600 °C under air atmosphere. The composites present an enhanced photocatalytic activity under visible light irradiation, the kinetic constant of Methyl Orange (MO) degradation with g-C3N4/ZnO is 2.89 and 8.23 times those of the pure g-C3N4 and ZnO, respectively. Moreover, the high stability of the photocatalyst was reflected in the photodegradation of MO. The ZnO was successfully incorporated into the lattice of g-C3N4, and a Zn–N bond was formed, which resulted in an enhanced charge transfer efficiency in composites. Therefore, the low separation efficiency of photogenerated electrons–hole pairs existed in a single catalyst was well solved after g-C3N4 was combined with ZnO. The adjustment of raw material ratio shows great influence on the photocatalytic activity, and the optimum synergetic effect of the composite catalyst was found at a weight ratio of 1/30 of ZnO precursor to g-C3N4 precursor. We concluded that the photocatalytic system formed by g-C3N4 and ZnO should be the Z-scheme heterojunction with an improved transfer efficiency of photogenerated electron–hole pairs and strong redox capacity, which can be confirmed by radical trapping experiments, DMPO-ESR technique and valence band XPS spectra measurements.