01-11-2013 | Issue 2/2013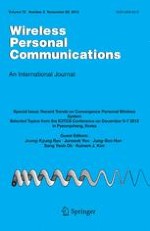 Home Health Gateway Based Healthcare Services Through U-Health Platform
Journal:
Authors:

Eun-Young Jung, Jong-Hun Kim, Kyung-Yong Chung, Dong Kyun Park
Important notes
This paper is significantly revised from an earlier version presented at the International Conference IT Convergence and Security.
Abstract
The Ubiquitous Health, or u-Health, service is an IT health care service using the ubiquitous computing environment. U-Health provides customized medical services. As it is a service that has developed from the current hospital visiting medical system, the u-Health service provides a patient with healthcare anywhere and anytime. In this paper, we propose a home health gateway based healthcare services through the u-Health platform. Using home health gateway, u-Health can provide health monitoring, diet, and exercise services using the healthcare decision support module in the ubiquitous environment. This approach would offer specialized services using an external content provider of DB. In addition, a doctor can provide advice to patients using the monitoring service. The proposed u-Health platform provides effective services using home health gateway in ubiquitous environments to customers, which will improve the health of chronic patients.