18-02-2020 | Methodologies and Application | Issue 16/2020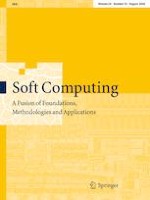 Homographic pun location using multi-dimensional semantic relationships
Journal:
Authors:

Yufeng Diao, Hongfei Lin, Liang Yang, Xiaochao Fan, Di Wu, Kan Xu
Important notes
Publisher's Note
Springer Nature remains neutral with regard to jurisdictional claims in published maps and institutional affiliations.
Abstract
Homographic pun has been developed into a new research area as an important branch of humor research, being a common source of humor in jokes and other comedic works. Pun word is the key to better understand homographic pun. However, in order to construct automatic model for locating the pun from homographic pun, it remains difficult challenges because of the ambiguity and confusion. In this paper, we firstly introduce several multi-dimensional semantic relationships of homographic pun based on the relevant theory and then employ a novel effective un-supervised semantic similarity match approach MSRLP that depending on the multi-dimensional semantic relationships to locate the pun in a homographic pun. Performance evaluation demonstrates that our presented approach significantly achieves the state-of-the-art performance on the public SemEval2017 Task7 dataset, outperforming a number of strong baselines by at least 3.67% in
F
1-score measure.