01-09-2014 | Issue 5/2014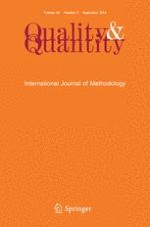 Homophily and heterophily in personal networks. From mutual acquaintance to relationship intensity
Journal:
Authors:

Carlos Lozares, Joan Miquel Verd, Irene Cruz, Oriol Barranco
Abstract
This article deals with the analysis of homophily and heterophily in ego-centred networks (personal networks). The analysis takes a dual approach. First it uses the classical definition of homophily (in this article called
elementary homophily
) to compare mutual ties between groups defined by employment status, age and city of residence. These analyses are then enriched by incorporating the level of affective proximity, thus forming what we have called
specific homophily
. The analysis of elementary homophily confirms the expected predominance of homophilous relationships over heterophilous ones. The analysis of specific homophily shows that inter-group relationships between close and intimate contacts follow similar patterns, whereas these differ substantially for relationships that are not at all close. The comparison of the two types of homophily shows a correspondence between high values in elementary homophily and high values in close and intimate relationships.