2020 | OriginalPaper | Chapter Open Access
2. Household Food Waste—How to Avoid It? An Integrative Review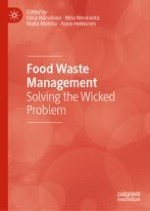 Authors: Lisanne van Geffen, Erica van Herpen, Hans van Trijp
Publisher: Springer International Publishing
Introduction
Why do people waste food at home and how can it be prevented? Answers to these questions are relevant, as most food in the developed world is wasted at consumer level (Stenmarck et al.
2016
). Stimulating people to lower their food waste levels is challenging and requires a thorough understanding of the behavioural drivers and obstacles to change. In general terms, there are two perspectives one can take to understand behavioural change; an individualistic or a societal perspective. Whereas the former focusses on understanding individuals' motivation to aim for change and the implementation of this aim, the latter focusses on understanding the influences of societal structure (e.g. modern society) on steering collectives of people to change behaviour. This chapter takes an individualistic perspective and reviews literature on drivers and constraints for individuals to reduce their household food waste. Insights from the societal perspective can be found elsewhere (e.g. Butler et al.
2014
; Halkier
2013
; Hargreaves
2011
).
Practitioners have already implemented interventions, usually awareness-raising campaigns , to stimulate food waste reduction at home (e.g. Love Food Hate Waste, Stop Spild Af Mad, Zu gut für die Tonne). These campaigns are impressive in their outreach and multifaceted nature and several have shown to be (in part) successful (Stöckli et al.
2018
). Yet, in most cases these campaigns lack a theoretical basis, proper monitoring and effectiveness measures, making it impossible to deduce which elements drive behavioural change (see, e.g., Stöckli et al.
2018
). This is unfortunate as setting up interventions is time consuming and costly and the incorporation of empirical insights is likely to increase the potential for success. Therefore, this chapter will translate the reviewed insights on the drivers and constraints for behavioural change into guidelines and suggestions for interventions with impact. This chapter does not contain new data, but instead contributes to recent work (e.g. Hebrok and Boks
2017
; Stöckli et al.
2018
), by making a distinction between interventions that steer towards setting an intention to lower food waste levels and interventions that steer towards implementing such an intention. This distinction will improve effective intervention development, as people in different stages towards (deliberate) behavioural change are best served by different types of interventions. People without a set intention to lower food waste levels will benefit most from interventions that stimulate intention setting and not from those that stimulate intention implementation and vice versa.
Why Do People Waste Food in Their Households?
Put simply, household food waste results from buying more food than is consumed. Yet, food is rarely discarded directly after shopping. Rather, it is discarded after performing a complex set of behaviours, each of which increases the likelihood to waste (Principato
2018
; Quested et al.
2013
) (see Fig.
2.1
). Understanding these household management behaviours helps to identify what interventions should target. This section first discusses the behaviours linked to food waste and then focusses on its drivers.
×
Behaviours Leading to Food Waste
The behaviours described above are known to influence the level of food waste at home directly and indirectly. It is important to note that food is not always moved through all stages in a linear manner. It can also bypass some stages or be placed back into an earlier stage. For instance, ready-made meals can be bought and eaten directly and leftovers can be put back into storage.
Drivers of Behaviours Leading to Food Waste
Behavioural change is a multiphase (iterative) process whereby people change their behaviour because they are internally or externally motivated to do so (Bamberg
2013
; Nielsen
2017
). Goal-directed behavioural change consists of two stages: goal setting and goal striving (Nielsen
2017
). Goal setting refers to understanding why some people are motivated to prevent food waste while others are not (Bamberg
2013
), whereas goal striving refers to the implementation of intentions to change. Setting an intention to change a behaviour does not equal actually performing it (Sheeran and Webb
2016
) because people have multiple (food-related) goals they aim to act upon; these include ensuring that all household members have enough to eat, eat safe foods and enjoy eating (Hebrok and Boks
2017
). At the same time, people only have a limited amount of time, cognitive capabilities and money to allocate to food purchases (Mann et al.
2013
) and therefore need to make choices on which goals to act upon.
Food waste prevention is not easily prioritised over these other goals, as it is characterised by limited direct personal benefits, except for acting upon moral values (Steg et al.
2014
). Food prices are relatively low and the social and environmental effects of food waste per household are small and distant. In contrast, several other food-related goals have strong personal (and sometimes direct) benefits such as spending little time on food shopping and cooking (gain goals), or food enjoyment (hedonic goals). People act more easily upon hedonic and gain goals than on normative ones (Steg et al.
2014
). Therefore, people will implement a goal to lower waste levels more easily, when they simultaneously can act upon other valued goals and without spending too many resources (e.g. turning leftovers into tasty new meals in a short a amount of time). For this, people need abilities (i.e. skills and knowledge sets) and opportunities (i.e. aspects from the environment) (Ölander and Thogersen
1995
; Rothschild
1999
). If abilities and/or opportunities are lacking, people will be restricted in lowering their food waste levels effectively and efficiently. Therefore, stimulating people to change their daily routines will only be successful if these constraints are understood and overcome. First, we will discuss in more detail what drives goal setting and subsequently which abilities and opportunities are helpful for goal striving.
Goal Setting: Motivation to Change
In summary, people are more likely to set a goal to prevent food waste when it is considered important enough. This perceived importance is influenced by a person's attitude, problem awareness, behavioural influence and responsibility as well as social norms.
Goal Striving: Abilities and Opportunities
As already touched upon, there are two reasons why abilities and opportunities are needed to implement the goal to reduce food waste. First, they are vital to perform food waste preventing behaviours effectively and second, they can facilitate acting upon multiple (food-related) goals at once.
To summarise, abilities and opportunities can hinder or support people to reduce their waste levels effectively and efficiently. In particular, abilities can help people to act upon food waste prevention and other valued goals simultaneously, for instance when they are able to plan accurately, prolong shelf life, estimate food safety and cook creatively. Opportunities can hinder or support people in preventing food waste, as they influence the amount of resources needed to perform the corresponding behaviours. These refer to lifestyle dynamics, food supply availability, shop accessibility and equipment at home.
Interventions to Facilitate Behavioural Change
In the previous sections, the behaviours causing food to become waste and the drivers of these behaviours have been discussed. These are important first steps in the development of effective interventions, as they identify which problematic behavioural aspects should be changed. Another important aspect is deciding which intervention design is most suitable, as some interventions are more suited to move people towards goal setting, whereas others are more suited to facilitate goal implementation (see Table
2.1
).
Table 2.1
Potential interventions against household food waste
Motivation

Abilities

Opportunities

Goal-intention setting

Information campaigns

• Campaigning to raise awareness of general food waste consequences

• Campaigning to raise awareness of benefits of prevention

• Information of which behaviour to change

Emotional appeal campaigns

• Campaigning to elicit emotions with regard to food waste

Social influences

• Normalising food waste prevention

• Normalising specific food waste preventing behaviours (e.g. eating leftovers)

Commitment

• Encouraging people to set the goal to reduce waste

• Encouraging people to perform a particular food waste preventing behaviour

Regulations

• Subsidies for low food waste levels

• Privileges for low food waste levels

• Praise for low food waste levels

• Monetary penalties for high food waste levels

Goal striving

Prompts

• Reminders to prevent food waste (e.g. in supermarkets, on packaging or in fridges)

Implementation intention setting

• Encouraging people to set implementation goals (if-then scenarios) to perform a particular food waste preventing behaviour

Instructions to increase abilities

Providing tips and tricks on:

• Meal planning

• Storage information

• Estimating food safety

• Cooking creatively

Feedback

• Providing feedback on own waste levels (e.g. smart bins)

• Launching a competition to reduce food waste

Making it easy

• Planning apps

• Measuring cups

• Smart fridge

• Providing appropriate packaging sizes at appropriate prices

• Improving food shelf life

• Placing more appropriate packaging sizes in places easy to access

• Encouraging placing kitchen appliances (blender, toaster) in places easy to access
Interventions to Encourage Setting the Goal to Reduce Waste Levels
Interventions to Encourage Goal Striving
Conclusion
This chapter reviewed the latest insights on the drivers and constraints for behavioural change towards food waste reduction into guidelines and suggestions for interventions with impact. It made a distinction between interventions that encourage goal setting to reduce food waste levels and interventions that encourage goal striving. It can be concluded that it is difficult to motivate people to actively reduce their food waste levels, despite their strong negative perceptions towards this issue. This is primarily because of the nature of food waste prevention, as this normative goal is difficult to act upon when hedonic goals and gain goals are also activated. Therefore, to successfully steer people towards food waste reduction, interventions should not (solely) provide informational awareness-raising campaigns, as people are already concerned about the issue. Rather, people are best served by interventions that focus on making food waste prevention more salient (relative to their other valued goals), for instance by providing prompts or commitment. Additionally, interventions should focus on facilitating goal striving, by improving people's abilities and opportunities to handle food effectively. Thus, interventions should enable people to handle food in such a way that they can prevent food waste while also acting upon their other valued goals, without the need to spend more resources. This could be done by providing people with instructions, as well as altering their surroundings to make food waste reducing behaviours easier to perform. To be certain which interventions will be most effective in reducing household food waste levels, we encourage scholars to further investigate the effectiveness of different (combinations of) interventions. In order to do so, we want to stress the relevance and importance of incorporating monitoring and measurement methods when implementing an intervention, as only then the interventions' effectiveness can be evaluated; for information on this issue see Van Herpen et al. (
2016
), Reynolds et al. (
2019
).
Finally, it is important to note that this chapter has not discussed the variety of practicalities one should think about when setting up an intervention. It is out-of-scope to give a conclusive overview of all practicalities of concern, but for more information see Reynolds et al. (
2019
). However, an important issue we want to highlight is specifying the target audience in terms of (socio)demographics (Reynolds et al.
2019
), as this identification will steer decisions on which communication channel should be used (e.g. social media, newspapers) as well as who/what should be the source of the intervention (e.g. government, retail, famous role model) (Klöckner
2015
). Without taken this into account, one risks setting up potentially effective interventions which does not reach its appropriate audience.
With the provided insights in this chapter we hope to have given guidelines to develop and implement effective intervention to reduce household food waste.
Open Access
This chapter is licensed under the terms of the Creative Commons Attribution 4.0 International License (http://creativecommons.org/licenses/by/4.0/), which permits use, sharing, adaptation, distribution and reproduction in any medium or format, as long as you give appropriate credit to the original author(s) and the source, provide a link to the Creative Commons license and indicate if changes were made.
The images or other third party material in this chapter are included in the chapter's Creative Commons license, unless indicated otherwise in a credit line to the material. If material is not included in the chapter's Creative Commons license and your intended use is not permitted by statutory regulation or exceeds the permitted use, you will need to obtain permission directly from the copyright holder.