01-06-2015 | Forum | Issue 2/2015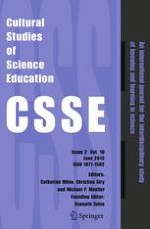 How can science education foster students' rooting?
Author:

Edvin Østergaard
Important notes
This review essay addresses Wolff-Michael Roth's paper titled:
Enracinement or The earth, the originary ark, does not move
—
on the phenomenological (historical and ontogenetic) origin of common and scientific sense and the genetic method of teaching (for) understanding.
Abstract
The question of how to foster rooting in science education points towards a double challenge; efforts to
prevent
(further) uprooting and efforts to
promote
rooting/re-rooting. Wolff-Michael Roth's paper discusses the uprooting/rooting pair of concepts, students' feeling of alienation and loss of fundamental sense of the earth as ground, and potential consequences for teaching science in a rooted manner. However, the argumentation raises a number of questions which I try to answer. My argumentation rests on Husserl's critique of science and the "ontological reversal", an ontological position where abstract models from science are considered as more real than the everyday reality itself, where abstract, often mathematical, models are taken to be the real causes behind everyday experiences. In this paper, measures towards an "ontological re-reversal" are discussed by drawing on experiences from phenomenon-based science education. I argue that perhaps the most direct and productive way of promoting rooting in science class is by intentionally cultivating the competencies of sensing and aesthetic experience. An aesthetic experience is defined as a precognitive, sensuous experience, an experience that is opened up for through sensuous perception. Conditions for rooting in science education is discussed against three challenges:
Restoring the value of aesthetic experience,
allowing time for open inquiry
and
coping with curriculum.
Finally, I raise the question whether dimensions like "reality" or "nature" are self-evident for students. In the era of constructivism, with its focus on cognition and knowledge building, the inquiry process itself has become more important than the object of inquiry. I argue that as educators of science teachers we have to emphasize more explicitly "the nature of nature" as a field of exploration.