19-09-2016 | RESEARCH ARTICLE | Issue 2/2018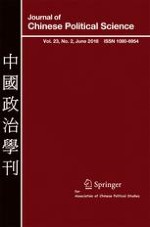 How Does Voting in Village Elections Influence Democratic Assessment in China?
Journal:
Author:

Yingnan Joseph Zhou
Abstract
How does voting in village elections affect one's assessment of China's democracy? In a time when a majority of the Chinese people believe that China is a democracy, this question has important implications for the prospects of bottom-up democratization. Village elections may play a positive role if they can bring people to realize that China is not a democracy. By contrast, village elections may play a negative role if they reinforce the belief that China is already a democracy. Using the China data of the ABS II, I show that voting in village elections does lead to more negative democratic assessment, but this does not imply a positive role of village elections for bottom-up democratization, because the negative effect of voting is only detected in elections of poor quality. In free and fair elections, voting has no influence.