2021 | OriginalPaper | Chapter
4. How Does Wind Impact Gameplay?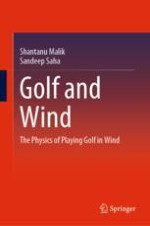 Read first chapter
Authors: Shantanu Malik, Sandeep Saha
Publisher: Springer Singapore
Abstract
The flight of a golf ball is majorly governed by aerodynamic forces acting on the ball. Since these forces depend on the relative airspeed of the ball, wind has a direct impact of the golf ball's trajectory. Moreover, the impact of wind is much more significant than that of other parameters like ball speed, spin rate and launch angle. Therefore, the effect of wind becomes a vital subject in the game of golf. In this chapter, we present a detailed quantitative analysis of the variation in wind-induced deviations with respect to three parameters that govern the ball's trajectory: wind conditions, launch conditions and aerodynamic characteristics. We find that the effect of headwind is more profound than that of a tailwind of the same magnitude. Also, the wind-induced deviations are higher for more lobbed shots compared to flat shots. Finally, the trajectory of a golf ball having hexagonal dimples undergoes a higher deflection in the presence of wind, as compared to that of a conventional golf ball having circular dimples.