27-01-2018 | Methodologies and Application | Issue 11/2019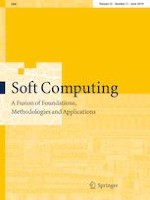 How much and where to use manual guidance in the computational detection of contours for histopathological images?
Journal:
Authors:

Catalin Stoean, Ruxandra Stoean, Adrian Sandita, Cristian Mesina, Corina Lavinia Gruia, Daniela Ciobanu
Important notes
Present work was supported by the research Grant No. 26/2014, code PN-II-PT-PCCA-2013-4-1153, entitled IMEDIATREAT—Intelligent Medical Information System for the Diagnosis and Monitoring of the Treatment of Patients with Colorectal Neoplasm—financed by the Romanian Ministry of National Education (MEN)—Research and the Executive Agency for Higher Education Research Development and Innovation Funding (UEFISCDI). The authors would like to thank Daniel Lichtblau for English proofreading of the manuscript.
Abstract
There have been important developments in microscopy hardware in the last decades and the number of hospitals to deploy such tools has increased, naturally leading to a very high number of microscopic images that need to be processed. The interest in automated image analysis has accordingly grown and calls for a close collaboration between physicians and computer scientists. A first step in analyzing histopathological images with highly irregularly shaped areas of interest, for instance, is represented by image segmentation, i.e., the accurate selection of the glands or nuclei. In the current study, manual segmentation is applied to several histopathological images and the resulting files are next used for measuring how close automatic contour detection methods can get to the annotations of the specialist. More, it is subsequently investigated whether annotations on a small part of the initial file can help in automatically marking the entire image, and how small such a section can be in order to achieve reasonable results. The histogram resemblance between the cropped image and the complete one appears to have an important impact over the results.