01-05-2019 | In the Spotlight | Issue 5/2019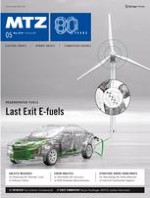 How Much Powertrain Diversity Can We Afford?
Journal:
Author:

Marc Ziegler
The experts from industry and politics agree on one thing: We require a large number of different drive types if we are also to meet future emission targets. Yet this variety is also generating a sense of urgency and placing the sector under great development pressure, as future drives need to be designed with much more focus on delivering actual benefits. However, a "one for all" solution to solve all issues seems like a distant fantasy here. ...