15-05-2019 | Original Paper | Issue 3/2020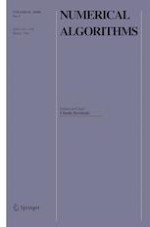 How to compute the minimum norm least squares solution of singular linear system by using the preconditioned HSS method?
Journal:
Authors:

Yue Hao, Ai-Li Yang, Yu-Jiang Wu
Important notes
Publisher's note
Springer Nature remains neutral with regard to jurisdictional claims in published maps and institutional affiliations.
Abstract
For the singular, non-Hermitian, and positive semi-definite system of linear equations
A
x
=
b
, we introduce a kind of preconditioners for the preconditioned Hermitian and skew-Hermitian splitting (PHSS) iteration method. Then, the iteration sequence generated by the corresponding PHSS iteration method converges to the minimum norm least squares solution
A
‡
b
for any initial guess no matter the singular system of linear equations is consistent or inconsistent. In addition, a kind of PHSS preconditioners are derived from the PHSS iteration method. The PHSS preconditioned generalized minimum residual (PGMRES) methods also determine the minimum norm least squares solution of the consistent singular linear system at breakdown. Numerical experiments are used to verify the effectiveness and the robustness of the PHSS iteration method and the PHSS preconditioner.