23-01-2017 | Foundations | Issue 3/2018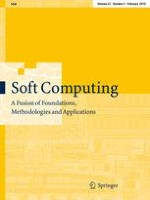 Human Strategy (HS) Optimization Algorithm
Journal:
Authors:

M. A. Soltani-Sarvestani, Zohreh Azimifar, Ali Hamzeh
Important notes
Communicated by A. Di Nola.
Abstract
In this paper, a new group of optimization algorithms named
Human Strategy Algorithm
(HS) is proposed which is inspired by human strategies to problem solving. The main idea of HS is based on human actions to find the problem's optima by means of accessible instruments. As the environment of an unknown problem assumed to be a black box, it is supposed that the environment of our problem is a dark room occupied by several men named
blind men
. The main mission of these men is to look for the optimum solution. Each man has at least one instrument as his assistance. Like real life, the instrument might be any tool such as
stick
,
billy
,
rope
,
stone
,
yoyo
,
sweep
. Any instrument by its unique features is suitable in some situations. In fact, this algorithm maps problem space and searches agents to dark room and people, respectively. In this paper, one sample algorithm of the group of human strategy, YOYO Blind Man Algorithm (YOYO-BMA), is introduced which uses yoyos as men's accessible instruments. The performance of the YOYO-BMA is evaluated on a set of benchmark problems provided for CEC'2010 Special Session and Competition on Large-Scale Global Optimization (Tang et al.
2010
). The results show superior performance of proposed algorithm in comparison with others. Moreover, the problem of designing urban traffic network is solve to evaluate the algorithm using a real complex problem.