18-03-2020 | Full Research Article | Issue 2/2020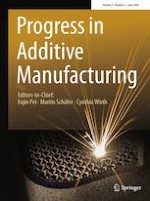 Hybrid layered manufacturing of a bimetallic injection mold of P20 tool steel and mild steel with conformal cooling channels
Journal:
Authors:

Sajan Kapil, Fisseha Legesse, Seema Negi, K. P. Karunakaran, Swarup Bag
Important notes
Publisher's Note
Springer Nature remains neutral with regard to jurisdictional claims in published maps and institutional affiliations.
Abstract
Hybrid layered manufacturing (HLM) is one of the most efficient rapid tooling processes that uses a metal inert gas, tungsten inert gas or laser cladding processes for producing near-net shape and machining operations for finishing on the same platform. Materials saving, elimination of rough machining, reduction of programming time, ability to make conformal cooling channels (CCCs), and bimetallic objects are some of the significant advantages of HLM in tooling applications. CCCs, as against the straight cooling channels, reduce the cycle time and distortion and improve the matrix integrity. Bimetallic objects, as compared to monolithic objects, reduce the overall cost by replacing the interior with cheaper material. In this work, the HLM has been investigated for realizing bimetallic structures of P20 tool steel and mild steel. A complex bimetallic plastic injection mold with hard casing (P20 tool steel) and soft core (mild steel) along with CCCs have been built as a case study. The mechanical and microstructural characterization leads to the fine-tuning of the process parameters. The plastic injection mold with CCCs is designed through heat flow analysis using a commercial software.