26-07-2020 | Regular Research Paper | Issue 3/2020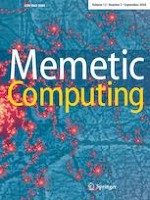 Hybrid many-objective cuckoo search algorithm with
Lévy

and exponential distributions
Journal:
Authors:

Zhihua Cui, Maoqing Zhang, Hui Wang, Xingjuan Cai, Wensheng Zhang, Jinjun Chen
Important notes
Publisher's Note
Springer Nature remains neutral with regard to jurisdictional claims in published maps and institutional affiliations.
Abstract
Hybrid many-objective cuckoo search algorithm (HMaOCS) is a newly proposed method for Many-objective optimization problems (MaOPs), and has achieved promising performance. However,
Lévy
and Gaussian distributions used in global search manner of HMaOCS is originally proposed for optimization problems with one objective, and they are not suitable for MaOPs as illustrated in this paper. To further exploit the potential of HMaOCS, this paper investigates four different probability distributions and their six corresponding combinations. Comparison results illustrate that the combination of
Lévy
and Exponential distributions is able to greatly improve HMaOCS. On the basis of comparison results and analysis on both DTLZ and WFG test suites with 2, 3, 4, 6, 8 and 10 objectives, it can be concluded that HMaOCS with
Lévy
and Exponential distributions exhibits better performance compared with most advanced algorithms.