08-08-2020 | Issue 11/2020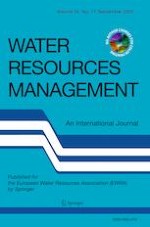 Hybrid SSA-ARIMA-ANN Model for Forecasting Daily Rainfall
Journal:
Authors:

Poornima Unnikrishnan, V. Jothiprakash
Important notes
Publisher's Note
Springer Nature remains neutral with regard to jurisdictional claims in published maps and institutional affiliations.
Abstract
Rainfall, which is one of the most important hydrologic processes, is influenced by many meteorological factors like climatic change, atmospheric temperature, and atmospheric pressure. Even though there are several stochastic and data driven hydrologic models, accurate forecasting of rainfall, especially smaller time step rainfall forecasting, still remains a challenging task. Effective modelling of rainfall is puzzling due to its inherent erratic nature. This calls for an efficient model for accurately forecasting daily rainfall. Singular Spectrum Analysis (SSA) is a time series analysis tool, which is found to be a very successful data pre-processing algorithm. SSA decomposes a given time series into a finite number of simpler and decipherable components. This study proposes integration of Singular Spectrum Analysis (SSA), Auto Regressive Integrated Moving Average (ARIMA) and Artificial Neural Network (ANN) into a hybrid model (SSA-ARIMA-ANN), which can yield reliable daily rainfall forecasts in a river catchment. In the present study, spatially averaged daily rainfall data over Koyna catchment, Maharashtra has been used. In this study SSA is proposed as a data pre-processing tool to separate stationary and non-stationary components from the rainfall data. Correlogram and Kwiatkowski–Phillips–Schmidt–Shin (KPSS) test has been used to validate the stationary and non-stationary components. In the developed hybrid model, the stationary components of rainfall data are modelled using ARIMA method and non-stationary components are modelled using ANN. The study of statistical performance of the model shows that the hybrid SSA-ARIMA-ANN model could forecast the daily rainfall of the catchment with reliable accuracy.