30-03-2020 | Original Research Paper | Issue 2/2020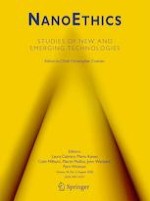 "I Don't Want to Do Anything Bad." Perspectives on Scientific Responsibility: Results from a Qualitative Interview Study with Senior Scientists
Journal:
Authors:

Sebastian Wäscher, Nikola Biller-Andorno, Anna Deplazes-Zemp
Important notes
Publisher's Note
Springer Nature remains neutral with regard to jurisdictional claims in published maps and institutional affiliations.
Abstract
This paper presents scientists' understanding of their roles in society and corresponding responsibilities. It discusses the researchers' perspective against the background of the contemporary literature on scientific responsibility in the social sciences and philosophy and proposes a heuristic that improves the understanding of the complexity of scientific responsibility. The study is based on qualitative interviews with senior scientists. The presented results show what researchers themselves see as their responsibilities, how they assume them, and what challenges they perceive with respect to their responsibilities. Regarding the latter, the interviewed researchers highlight those aspects of responsibility that go beyond the expertise of their professional role, and thus cannot be carried by scientists alone. For example, scientists alone cannot determine the general direction science takes, or the useful application of their research. The interviewed researchers describe those challenges as responsibilities that must be shared across different societal groups. In the theoretical literature, responsibility has been described as a relation between an actor (who), the action for which someone is responsible (what), and the normative framework against which someone is responsible (why). We will draw on this concept of "relational responsibility" to identify the various actors, normative frameworks, and actions relevant to scientific responsibility. This will serve as a heuristic tool to help identify the entanglement of responsibilities spread across several societal groups.