2020 | OriginalPaper | Chapter
2. Ideate-Generate: Design Thinking and User Experience (UX) for Sustainable Impact on Global Product Development of Wearable Technologies in the Healthcare Industry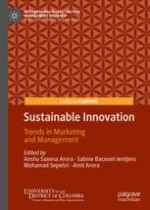 Read first chapter
Authors: Alexandra Washington, Samira Soumahoro, Anshu Saxena Arora
Publisher: Springer International Publishing
Abstract
Recently user experience (UX) has become a critical component of product innovation. Research and development teams often use this data to help determine a product's potential prior to going to market. As companies are increasingly becoming global, products and services must be developed to meet the needs of global users. Understanding how the country of origin impacts a specific user's experience and their desires is important to new product development. This chapter examines how user experience impacts the development of new innovations globally. Additionally, we examine and address the following research questions.
How do companies ideate and generate design thinking through UX for new product development worldwide?

How does the UX data collected from user feedback of users around the world encourage ideas for new product development?

How can companies redesign and redevelop products to meet new user needs, or generate raw ideas for designing new products designed based on UX?
Our research focuses on innovation ideas based on UX in the wearable technologies industry, more specifically those used in and created for the healthcare industry globally.