Published in: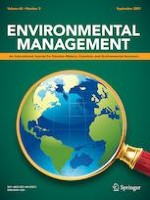 Open Access 26-06-2021
Identifying Policy-relevant Indicators for Assessing Landscape Vegetation Patterns to Inform Planning and Management on Multiple-use Public Lands
Published in: Environmental Management | Issue 3/2021
Abstract
Understanding the structure and composition of landscapes can empower agencies to effectively manage public lands for multiple uses while sustaining land health. Many landscape metrics exist, but they are not often used in public land decision-making. Our objectives were to (1) develop and (2) apply a process for identifying a core set of indicators that public land managers can use to understand landscape-level resource patterns on and around public lands. We first developed a process for identifying indicators that are grounded in policy, feasible to quantify using existing data and resources, and useful for managers. We surveyed landscape monitoring efforts by other agencies, gathered science and agency input on monitoring goals, and quantified the prevalence of potential indicators in agency land health standards to identify five landscape indicators: amount, distribution, patch size, structural connectivity, and diversity of vegetation types. We then conducted pilot applications in four bureau of land management (BLM) field offices in Arizona, California, and Colorado to refine procedures for quantifying the indicators and assess the utility of the indicators for managers. Results highlighted the dominance of upland and the limited extent of riparian/wetland vegetation communities, moderate connectivity of priority vegetation patches, and lower diversity of native vegetation types on BLM compared to non-BLM lands. Agency staff can use the indicators to inform the development of quantitative resource management objectives in land use plans, evaluate progress in meeting those objectives, quantify potential impacts of proposed actions, and as a foundation for an all-lands approach to landscape-level management across public lands.
Supplementary information
Publisher's note
Springer Nature remains neutral with regard to jurisdictional claims in published maps and institutional affiliations.
Introduction
Below we first present information on the process we developed for identifying policy-relevant landscape indicators, and the application of that process to the BLM. We then describe methods, results, and agency feedback on the four pilot applications. Finally, we discuss our process, datasets, and methods along with the importance of science-management partnerships in efforts such as this one that attempts to bridge the gap between science and its use in public lands decision-making. We close by identifying specific ways in which these indicators can be used to inform future planning and management decisions on multiple-use public lands.
Identifying Policy-Relevant Landscape Indicators
We began our effort to identify core landscape indicators by holding a scoping workshop with a group of 42 science and technical advisors to generate an initial outline of a process to identify the indicators, and then followed up with participants and other agency staff to solidify the key steps, information needs, and desired products for public land managers. This process was modeled after those used previously by the BLM to identify core indicators for field-based monitoring of terrestrial and lotic systems (MacKinnon et al.
2011
; BLM
2015a
). The advisors included academic and federal researchers, land managers, and other personnel directly involved in resource monitoring for the BLM, US Geological Survey (USGS), US Forest Service, and National Park Service. Advisors provided expertise in (1) environmental monitoring, particularly at broad spatial scales and across ecosystems, (2) methods and datasets useful for quantifying ecological patterns and processes, and (3) agency management, planning, and policy making. To help ensure that the process satisfied the practical needs of a federal land-management agency, we (USGS and BLM) adopted a coproduction approach (e.g., Meadow et al. 2015; Beier et al. 2017) to the effort, including having multiple BLM staff on the team responsible for leading and conducting the project and talking frequently with policy and management staff at BLM field, state, and national offices. The resulting process is organized as three sequential steps (Fig.
1
).
×
A Process for Identifying Policy-relevant Landscape Indicators
Step 1 establishes a foundational basis for monitoring landscapes (Fig.
1
) by examining policy, laws, and regulations that guide agency actions. Gathering information on efforts by other agencies and organizations with similar missions and management responsibilities to assess and monitor landscapes can help an agency determine what approaches may be best suited to its own needs and facilitate adoption of aspects of existing programs or approaches that can promote cross-agency use of the resulting data (Toevs et al.
2011b
).
In step 2, an initial set of indicators is proposed that align with the agency's monitoring goal(s). Documenting clear references to landscape-level resource management goals and reporting needs in existing agency laws and policies is critical for identifying indicators that will be relevant to agency work. Indicators that can inform or facilitate required reporting are most likely to be viewed as useful by agency staff.
Step 3 is to quantify the proposed indicators in pilot applications and gather input from agency staff to help ensure that the indicators are feasible to quantify, clearly presented to staff in easy to use formats and products, and relevant to agency planning and management across different geographies, ecosystems, and management contexts. Steps 2 and 3 are both likely to be iterative.
Application of the Process to BLM
Two foundations for the effort were articulated by our project advisors. First, because many changes in public lands policy were occurring at the time, advisors emphasized that the indicators needed to be grounded in foundational laws that are unlikely to be altered as elected officials and their administrations change over time. Accordingly, we identified the Federal Land Policy and Management Act of 1976, the Fundamentals of Rangeland Health, and the National Environmental Policy Act [USC §4321] as foundational to BLM resource management.
Based on our findings from Step 1, we revised our goal for landscape monitoring in the BLM to a more feasible goal of quantifying the current status of patterns of vegetation types of management concern at scales relevant to agency actions (e.g., grazing allotments, field offices, states) using datasets likely to provide informative results over timeframes coinciding with required land use plan reporting (5–10 years).
We describe the below results from Step 3, which is to quantify the proposed indicators in multiple locations, gather feedback from agency staff on their utility, and finalize a recommended set of indicators, methods, and datasets.
Pilot Applications
Study Areas
We chose four BLM field offices in Arizona, California, and Colorado to test the proposed indicators (Fig.
2
). Each pilot application quantified the indicators within two boundaries relevant to current plans or management issues: a focal boundary and a relevant larger boundary to provide context for interpreting results from the focus area. The Yuma and Hassayampa Field Office pilot applications both used the state of Arizona as the larger boundary. In Colorado, we chose a mid-sized grazing allotment as the focus area within the White River Field Office. In California, the Eagle Lake Field Office was the focal boundary within a larger area defined by the outer boundaries of eight field offices in the northwestern Great Basin. Boundary selection was guided by BLM planning documents, current management issues identified by BLM state and field office staff, and a desire to quantify indicators across a range of spatial extents.
×
Methods
We used BLM resource management plans (with amendments), land health standards and indicators for the area, and input from field and state office staff (e.g., wildlife biologists, fire ecologists, geospatial ecologists, planners, monitoring coordinators) to identify priority vegetation types and relevant vegetation management objectives for each pilot application. BLM resource management plans are comprehensive documents that identify, among many other things, desired outcomes (goals and objectives) for vegetative resources, including desired mixes of vegetative types and structural stages; landscape and riparian functions; habitat for native plants, fish, and wildlife; and forage for livestock. Desired outcomes may be established at multiple scales. Plans may also identify areas of ecological importance, designate priority plant species and habitats, and identify actions and area-wide use restrictions needed to achieve desired vegetative conditions (BLM
2005
).
We evaluated three datasets as sources for current vegetation: LANDFIRE Existing Vegetation Type (EVT 2.0, LANDFIRE
2019b
), USGS GAP Landcover data (National Gap Analysis Program
2011
), and the National Land Cover Database (Multi-Resolution Land Characteristics Consortium
2019
). We chose LANDFIRE EVT as the basis for quantifying indicators because of its greater thematic detail for natural vegetation and its consistency in methodology across regions. We used LANDFIRE Biophysical Settings (BpS 2.0, LANDFIRE
2019a
) to derive a metric related to estimated historical (pre-European settlement) vegetation types and BLM's surface management agency dataset (BLM
2017
) for land management boundaries.
We created linkage tables between LANDFIRE EVT and BpS class names using descriptions and species information in the NatureServe terrestrial ecological classifications (NatureServe
2018
) and LANDFIRE Map Unit Descriptions (LANDFIRE
2016
), along with information provided by Pat Comer (NatureServe, personal communications, August 2018 and October 2019). Priority vegetation communities identified in BLM resource management plans often consisted of multiple EVT classes. In those cases, we additionally used agency staff input to identify and produce 30-m raster maps of the EVT and BpS classes comprising the vegetation community. To be feasible for regular use by BLM, methods needed to be implemented using readily available software. We completed all analyses using ArcGIS 10.7 (ESRI
2019
).
We quantified the indicators within both boundaries for each study area for both BLM and non-BLM lands for several reasons. The primary interest of BLM managers is the status of vegetation communities on lands that they manage in their field office. However, managers are also fully aware that BLM-managed lands occur within a matrix of other public and private lands which influence management options and outcomes across the entire landscape (Carter et al.
2020
). Further, managers are interested in how vegetation patterns on their lands compare to those on lands managed by other entities and in the broader region surrounding their field office.
Amount and Distribution
Using the EVT/vegetation community raster data, we derived the mapped amount of each vegetation type or community on BLM-managed lands and on all lands for each boundary and provided results for these and all metrics in a report format that could be easily inserted into agency planning documents.
Patch Size and Connectivity
Many patch size and connectivity metrics exist (e.g., McGarigal et al.
2012
), including methods and metrics for quantifying functional connectivity of habitats for individual species (e.g., Gray et al.
2019
). For this study, our focus was on the structural connectivity of vegetation types across planning areas and larger landscapes. Our goal was to identify a simple metric that would encourage managers to begin considering and assessing the connectivity of vegetation types and communities quantitatively in their land use plans. Thus we chose two straightforward metrics—patch area and proximity to the nearest patch—for our pilot applications. We used two methods to create patches. We used a "contiguous" method for vegetation communities that tend to occur in larger, more numerous patches across the area of interest. This method required pixel adjacency to be considered part of the same patch and was implemented using the ArcGIS Spatial Analyst Region Group tool and an eight-neighbor adjacency rule. We used a "cluster" method for vegetation communities that tended to occur in small or linear patches (here, riparian and wetland vegetation). With this method, pixels separated by a minimum distance were considered part of the same patch. Here we defined a patch as all pixels of that vegetation community within 90 m of the focal pixel and created patches by buffering the pixels, dissolving the overlapping buffers, and assigning all pixels of that vegetation community within the dissolved buffer to the same patch. The 90 m threshold was derived from visual examination of imagery and the location of associated wetland/riparian pixels in the study boundaries across the three datasets, especially along the small streams that BLM typically manages. For both methods, we used the ArcGIS Generate Near Table tool to calculate the distance from each patch to the next nearest patch. We computed the frequency distribution of patch size and patch proximity by both percent of total area and percent of a total number of patches because of guidance from BLM staff that both were relevant to their decisions. When numerical management objectives for indicators existed, we graphed results using size and distance classes tailored to those objectives.
Vegetation Type Diversity
To calculate vegetation type diversity, we used the ArcGIS Spatial Analyst Focal Statistics tool to determine the number of discrete EVT and BpS class names for natural vegetation types only (developed, agricultural, and other disturbed categories in EVT were excluded) within 500 m of a focal pixel. We first computed and mapped current vegetation type diversity in line with our monitoring objective to assess current status. Based on requests from BLM staff, we also computed and mapped the difference between current and estimated historic vegetation type diversity, using the difference between the count of class names for natural vegetation types between EVT and BpS for each neighborhood.
Results
We first present results for the Yuma Field Office and then summarize results across the four study areas. Results for the Hassayampa, Eagle Lake, and White River field offices are provided in Appendices A, B, and C, respectively. For all study areas, we illustrate patch metrics for one common upland priority vegetation community and for riparian/wetland, a scarce lowland vegetation community that is always a priority for BLM managers.
Discussion
We took an initial step in bridging the gap between landscape science and public land management (Carter et al.
2020
) by identifying, from among the many existing landscape concepts and metrics, a small suite of core indicators that relate directly to existing policy and plans for federally managed multiple-use public lands in the US. We developed a process for identifying such indicators and recommend that the amount, distribution, patch size, structural connectivity, and diversity of natural vegetation types be an initial set of landscape indicators for assessing vegetation patterns to inform BLM management of public lands. As a proof of concept, we quantified the indicators in four BLM field offices across the western US. The indicators that resonated with agency planners, managers, and policy makers, were relevant to their management issues and decisions and were feasible to assess using existing data and technologies.
The Role of Science-management Partnerships in Bridging the Landscape Science-management Gap
The value of this effort was not in identifying complex, state-of-the-art landscape metrics. There are already many of these (e.g., McGarigal et al.
2012
; Vogt and Ritters
2017
). Instead, we sought to identify straightforward metrics that public land managers would actually use in their planning and management decisions. To do this, we relied extensively on a collegial coproduction partnership (Meadow et al. 2015) between the USGS and BLM. Staff from both agencies jointly developed the process for identifying indicators, applied that process in multiple BLM field offices, and regularly discussed ideas and gathered feedback from agency staff on the usefulness and specific potential uses of the indicators and metrics. BLM state and field office staff helped identify priority vegetation communities and provided input on datasets and rules for mapping vegetation communities using EVT classes in LANDFIRE. Patch definitions for rare or linear vegetation types were also developed in concert with managers and in response to observed limitations of LANDFIRE in mapping these vegetation types in their field offices. Agency staff also provided input on product content and formats for presenting indicator results that they could easily integrate into their planning and decision documents. Coproduction approaches such as these tend to produce science products at scales useful for managers and that are more easily integrated into agency decision-making processes (Meadow et al. 2015).
The Process for Identifying Indicators
Traditional, formal methods for identifying ecological indicators for monitoring employ a systems-like approach using conceptual models of varying detail to highlight key ecosystem drivers and their effects on biophysical components (Miller et al.
2010
; Miller
2005;
O'Dell et al.
2005
). Our approach differed from tradition in that the knowledge base of science and technical advisors, agency foundational laws, and a detailed understanding of agency workflows supplanted the direct use of conceptual models to guide the selection of indicators. Although we primarily used agency land health standards (Table
2
) and criteria and guidance derived from the literature and advisors' recommendations (Tables
1
and
3
) to guide the selection of landscape indicators, we purposely limited the initial number of indicators to better achieve our goals of feasibility and eventual use by public land managers. Additional indicators or metrics will be needed for targeted monitoring, such as monitoring habitat for individual wildlife species of management concern (Toevs et al.
2011a
,
2011b
; Taylor et al.
2014
).
We emphasize that these indicators and analyses for priority vegetation types are only one part of the information needed to inform landscape-level decisions on multiple-use public lands. Data on additional resources of management concern (e.g., soils, surface and ground water) and on anthropogenic and ecological processes that affect resources (e.g., climate, fire, development, invasive species, disease, Wood et al.
2016
; Carr et al.
2016
) are also critical. In addition, using indicators of spatial pattern quantified across landscapes together with field-based monitoring metrics that are collected locally has the potential to compensate for the limitations of each: field-based measures lack continuous, spatial pattern information while landscape indicators lack detailed species-level information. A principle of BLM's AIM strategy is the complementary integration of landscape and field-based measures to enhance the spatial and thematic detail of mapped resources to inform management (Toevs et al.
2011a
,
2011b
; Taylor et al.
2014
). Current data integration efforts use field-based AIM data for training and accuracy assessment of remotely sensed products (e.g., Jones et al.
2018
; Rigge et al.
2020;
Zhou et al.
2020
) and to improve mapping of high priority vegetation species (e.g., Young et al.
2020
). Using analogous approaches that integrate agency field data with the proposed indicators may increase their utility.
Datasets for Quantifying the Landscape Indicators
The importance of manager trust in the landcover data underlying landscape pattern analyses cannot be overstated, and the landcover data we used to quantify the indicators are not without limitations. There are challenges with LANDFIRE EVT accurately classifying vegetation types that tend to occur in very dry or wet areas, as small or indistinct patches that grade gradually into neighboring vegetation types, or as narrow linear configurations (e.g., riparian areas). Many vegetation types that are priorities in land use plans are priorities because they are a rare or minor component of the landscape. One goal of the comprehensive remap of LANDFIRE EVT, which resulted in LANDIRE 2.0, was to increase classification accuracy for some of these vegetation types, including riparian (Jim Smith, The Nature Conservancy, personal communication (oral), November 2018). The large units used for assessing the accuracy of LANDFIRE EVT, while ecologically based and appropriate for a nationwide dataset and the limited number of available testing data for each vegetation type, are part of this challenge. Agency land managers would be more convinced of the quality of the data if accuracy was assessed at the smaller extents (states, field offices) at which they are likely to use the indicators. Another federal land management agency in the US, the National Park Service, decided to use a different landcover dataset (the National Land Cover Dataset, e.g., Multi-Resolution Land Characteristics Consortium
2019
) to quantify landscape patterns (DeVivo et al.
2018
). This dataset has limited thematic resolution, which was not acceptable to BLM staff, but has the benefit of consistency in methodology and over time and relatively regular updates.
Consistent, westwide coverage of landcover data was a requirement for this project. However, it may be helpful in some cases to use specialty or locally available datasets with greater accuracy or thematic resolution for a specific area or vegetation community. For example, the National Wetlands Inventory (U.S. Fish and Wildlife Service
2018
) may provide more detailed information on the distribution of wetland or riparian sites in some locations. Given the ultimate goal of not just assessing but of monitoring changes in vegetation patterns over land use planning timeframes (e.g., 5–15 years), any specialized or localized datasets would ideally be derived using consistent, well documented, repeatable methods and have a history and forecast of regular, comprehensive updates. Because LANDFIRE EVT 2.0 was produced using different methods than previous versions, it is not clear whether successive versions of LANDFIRE will provide the consistency in modeling and classification methods needed to enable its future use for monitoring change in vegetation patterns over time.
Methods for Quantifying the Landscape Indicators
Our methods for quantifying the indicators were intentionally straightforward to foster a clear understanding of the results by managers and stakeholders, and to facilitate the ultimate calculation of metrics via desktop or web-based tools that may be used across very large extents (e.g., states, regions). We suggest that the methods and specific metrics used here to be viewed as a starting point. We hope that as managers become familiar and comfortable with these landscape concepts, they will want additional and more nuanced information about the landscape-level patterns of the resources they manage. Connectivity, in particular, is an area of focus currently among both federal and state resource managers (US Department of the Interior
2017c
,
2018b
; BLM
2018
,
2019b
). Connectivity metrics based on proximity, graph theory, network theory, and circuit theory each have different strengths, weaknesses, and utility for informing conservation and management actions (e.g., Baker et al.
2015
, Rayfield et al.
2011
, Simpkins et al.
2018
). Managers may want to use a metric that better captures overall connectivity patterns or incorporate complementary analyses on corridors or functional connectivity for key plant or wildlife species. Similarly, managers may desire that the indicators be quantified for aspects of vegetation condition such as productivity (e.g., using eMODIS Remote Sensing Phenology, Jenkerson et al.
2010
).
Using the Landscape Indicators to Inform Public Land Management
Our goal was to identify indicators relevant to public lands policy and demonstrate their relevance to and feasibility for use in public land management. We believe involvement and input from a broad group of stakeholders and agency staff throughout this project were a core strength of the process we developed to identify policy-relevant landscape indicators. We have highlighted above a number of challenges to their regular use, including the availability of landcover datasets with an adequate thematic resolution that is produced at regular intervals using consistent methods. Limited staff time and agency expertise in landscape ecology can also hinder the use of landscape information in public lands decisions, as can the short timeframes in which many decisions must be made (e.g., Trammell et al.
2018
, Cvitanovic et al.
2014
). We suggest two specific future opportunities that could further use the indicators in public land management contexts, in addition to those mentioned above. First, adoption of the indicators by a resource management agency could be accompanied by the provision of reports and datasets for the quantified indicators to a broad suite of field offices. A subsequent survey of staff in those offices could help scientists and agency staff better understand how, and how often, field staff was able to use the indicators in their planning or management decisions as well as any barriers to use. Second, the landscape indicators were developed and calculated in a manner that lends itself to hypothesis testing and associated statistical analysis whenever resource managers think such analyses would be informative and helpful. For example, if BLM has set an objective for managing a particular vegetation type for large patch sizes (as is the case for riparian/wetland vegetation in the BLM Yuma Field Office in Arizona), quantifying the size distribution of patches over time using updated landcover data as part of periodic agency reviews of the effectiveness of land use plans can help managers determine if conditions on the ground are moving closer to meeting their vegetation objectives.
We suggest that these core landscape indicators can help to improve understanding, management of, and reporting on the health of multiple-use public lands in five main ways. First, the indicators provide a viable method for BLM to quantify existing landscape-level land health standards and indicators. BLM is required to manage public lands to meet these land health standards and recommends that land health be assessed at broad scales (e.g., watersheds, BLM
2009
), but there has been no standard method for agency planners and managers to quantify these patterns. As a result, landscape aspects of land health standards have largely gone unmeasured. Second, many land use plans for public lands include landscape-level concepts and objectives for managing vegetation (e.g., Trammell et al
2018
). These objectives, however, are nearly always qualitative. For example, the Bradshaw Harquahala Resource Management Plan for the Hassayampa Field Office in Arizona has a vegetation management objective to 'maintain, restore, or enhance the diversity, distribution, and viability of populations of native plants, and maintain, restore, or enhance overall ecosystem health' (BLM
2010b
). Our indicators can provide current, baseline information that managers can use to set quantitative vegetation management objectives in future plans. Third, for agencies, including the BLM and US Forest Service, that require reporting on the effectiveness of land use plans (e.g., BLM
2005
), our indicators provide a mechanism for evaluating progress in meeting landscape-scale management objectives at the spatial scales at which planning occurs (typically BLM field offices, see suggested example in the previous paragraph). Land use plan evaluations in the BLM currently focus on qualitative measures related to planning implementation, missing an opportunity to assess how implementation actions may have altered the landscape. Fourth, the National Environmental Policy Act (NEPA, 40 CFR §1500 et seq.) is a foundational environmental law in the US, guiding the decision process for many BLM planning and management actions. NEPA requires that federal agencies evaluate the potential effects of proposed actions on public lands. Recent (2020) changes to the NEPA regulations have altered the language used to describe such effects, but have not altered the requirement for federal agencies to fully analyze potential effects of proposed actions (see also US Department of the Interior
2021
). Large projects have the potential to affect resource patterns at landscape scales. Landscape indicators provide one mechanism for standardizing how the full suite of potential effects—direct, indirect, and cumulative (Council on Environmental Quality
1997
, BLM
2008b
)—may be addressed and quantified in agency NEPA analyses. Finally, the US Department of the Interior has committed to managing across landscapes (US Department of the Interior
2017b
). Measuring a core set of indicators using consistent methods and datasets across the western US can facilitate efforts to manage natural resources at landscape levels and provide a foundation for an all-lands approach to the management of multiple-use western landscapes.
Supplementary information
Acknowledgements
The authors thank Bureau of Land Management staff from the Washington Office, the National Operations Center, and from field and state offices in Arizona, Colorado, California, and Alaska, for providing valuable input to the project, including Codey Carter, Phillip Cooley, Chel Ethun, Tim Hammond, Ryan Hathaway, Andrew Johnson, Elroy Masters, Scott Miller, Erica Stewart, and Gordon Toevs. We also thank science and technical experts from the Colorado Natural Heritage Program, National Park Service, Colorado State University, The Nature Conservancy, US Department of Agriculture Forest Service, US Geological Survey, and other agencies and organizations who provided insight regarding the use of landscape indicators for monitoring resource patterns at our April 2017 workshop. David Wood, Anthony Titolo, Megan McLachlan, Natasha Carr, and Zachary Bowen helped to conceptualize and guide the project. We are grateful to Joe DeVivo and Bill Monahan for providing insight into the National Park Service's landscape monitoring program. Jim Smith and Pat Comer provided valuable information about LANDFIRE data products. Funding for this work was provided by the Bureau of Land Management National Operations Center through agreement L16PG00147. Any use of trade, firm, or product names is for descriptive purposes only and does not imply endorsement by the U.S. Government. At the time of publication, a published crosswalk between LANDFIRE Existing Vegetation Type and Biophysical Settings class names was not available; we developed a crosswalk using information from multiple sources, including information provided directly to the project by Pat Comer (NatureServe, personal communications, August 2018 and October 2019).
Compliance with Ethical Standards
Conflict of Interests
The authors declare no competing interests.
Open Access
This article is licensed under a Creative Commons Attribution 4.0 International License, which permits use, sharing, adaptation, distribution and reproduction in any medium or format, as long as you give appropriate credit to the original author(s) and the source, provide a link to the Creative Commons license, and indicate if changes were made. The images or other third party material in this article are included in the article's Creative Commons license, unless indicated otherwise in a credit line to the material. If material is not included in the article's Creative Commons license and your intended use is not permitted by statutory regulation or exceeds the permitted use, you will need to obtain permission directly from the copyright holder. To view a copy of this license, visit
http://​creativecommons.​org/​licenses/​by/​4.​0/​
.
Publisher's note
Springer Nature remains neutral with regard to jurisdictional claims in published maps and institutional affiliations.