Published in: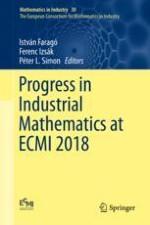 2019 | OriginalPaper | Chapter
Imbalance Determination for Wind Turbines
Abstract
In the growing field of clean energy extraction from wind the topic of rotor imbalances of wind turbines is of vital importance for the operation, safety and lifetime consumption of the turbines. The vibrations induced by imbalances lead to damages of important components, high repair expenses, and reduced output. The state of the art procedure to identify rotor imbalance is an expensive on-site procedure. We replace that procedure by a method that only uses the vibrations of the turbine during operation for the imbalance determination. To this end, a mathematical model of the turbine in the shape of an operator or matrix A was constructed that maps the imbalance p to the resulting vibrations u. Thus the problem of reconstructing an unknown imbalance from measured vibration data forms an inverse ill-posed problem that requires regularization techniques for its stable solution. We developed such a method, first for the case that the vibration data are collected during an operation with constant rotational speed. Later the situation of operation with variable speed was investigated and more sophisticated algorithms were developed for that case.