Published in: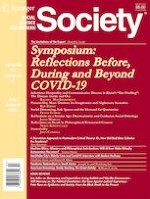 20-07-2020 | Symposium: Reflections Before, During, and Beyond COVID-19
Immortality
Published in: Society | Issue 4/2020
Log in
Abstract
This essay is an exercise in what might be called Metaphysical Sociology. It suggests that in the secular modern Western world immortality has become the great question mark. It explores possible responses, drawing on a range of fictional examples, including the novel and film
Gone with the Wind
and Nicolas Poussin's painting of
The Last Supper
. It draws a contrast between vitality and ego, on the one hand, and soul, on the other.