01-09-2020 | Original Article | Issue 17/2020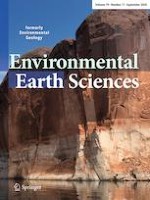 Impact of large diameter recharge wells for reducing groundwater depletion rates in an urban area of Lahore, Pakistan
Journal:
Authors:

Muhammad Masood Ashiq, Habib ur Rehman, Noor Muhammad Khan
Important notes
Publisher's Note
Springer Nature remains neutral with regard to jurisdictional claims in published maps and institutional affiliations.
Abstract
The groundwater table in Lahore, Pakistan is rapidly declining due to the effects of increasing urban development and groundwater abstraction at unsustainable rates. As managed aquifer recharge (MAR) has the potential to reduce this declining trend, a trial MAR scheme using four recharge wells was established at a site within the Lahore city area. A flowmetre and observation wells were installed for monitoring of groundwater recharge through the recharge wells and a numerical model was established to assess the effects of the recharge wells on depletion rates. Before the installation of recharge wells, the average depletion rate for groundwater was 0.87 m per year, of which the rate was − 0.074 m per was in summer season and 1.05 m per winter season. After installing the recharge wells, the model showed that the average depletion rate for groundwater was 0.72 m per winter season based on the 2-month data that showed the reduced depletion rate due to the installation of large diameter recharge wells. Then, scenario modelling was carried out using the same rainfall data for both the cases, i.e., without and with recharge wells. It was analysed that the depletion rate could be reduced by 16.45% and 39.24% by installing four and ten recharge wells, respectively. The study underlines the importance of groundwater recharge through large diametre recharge wells to reduce the depletion rate of Lahore's aquifer.