01-09-2020 | Thematic Issue | Issue 17/2020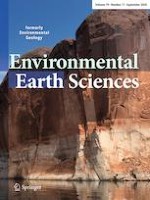 Impact of urbanization and land surface temperature changes in a coastal town in Kerala, India
Journal:
Authors:

P. Arulbalaji, D. Padmalal, K. Maya
Important notes
This article is part of a Topical Collection in Environmental Earth Sciences on "GeosphereAnthroposphere Interlinked Dynamics: Geocomputing and New Technologies", guest edited by Sebastiano Trevisani, Marco Cavalli, and Fabio Tosti.
Publisher's Note
Springer Nature remains neutral with regard to jurisdictional claims in published maps and institutional affiliations.
Abstract
Rapid urbanization and unscientific developments have resulted in large-scale degradation of the environment around major cities all over the world. The problem is acute in many tropical and sub-tropical Urban Local Bodies (ULBs) having high population density and are undergoing rapid economic developments. Lack of adequate studies to contain the ill-effects of developments is major challenge before the decision makers at different levels. In this paper, an attempt has been carried out to examine the spatio-temporal changes in urban growth and land surface temperature (LST) responses in a coastal city in SW India, the Thiruvananthapuram city (Kerala) that enjoys a tropical wet climate, as an example. Landsat imageries of 1988, 2000 and 2019 have been used to estimate the extent of urban growth and LST changes. The study revealed a marked decrease in vegetation cover (125–71 km2) and barren land (7–4 km2) in the area during 1988–2019. The built-up area showed a marked increase from 10 to 68 km2. It was noticed that the average LST has been increased from 26.5 °C to 28.1 °C during the study period. The study stresses the imminent need for strengthening the extent of green cover in the area and make developments more environment-friendly.