Published in: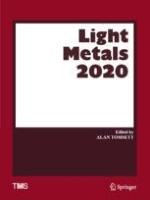 2020 | OriginalPaper | Chapter
Impacts of Mineralogy on Soluble Phosphorus Concentrations During Low Temperature Processing of Jamaican Bauxites
Abstract
Jamaica has about 7.1% of world bauxite reserves. Traditionally, local refineries process good-settling low phosphorus bauxites. As these ores become scarce, mining areas with poor-settling high phosphorus bauxites are being explored. In preparation for having to process these bauxites, this study sought to identify the main minerals that influence soluble phosphorus concentrations. Four correlations for predicting soluble phosphorus during low temperature digestion were applied to both the currently-mined and future bauxite resources. Soluble phosphorus concentrations were successfully predicted from total phosphorus in the bauxite. A simple mine-specific correlation that adjusts based on the calcium to phosphorus (CaO:P2O5) ratio in the bauxites was able to predict soluble phosphorus to within ±15% of measured values. The correlation was applicable even to ores with highly variable compositions. If the phosphorus impurity in the future bauxite is taken as crandallite, a correlation that over-predicts the measured soluble phosphorus by about 20–30% can be used to assess lime requirements for phosphorus control. Crandallite, calcite and silica were the main minerals that influence soluble phosphorus concentrations.