Published in: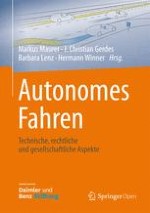 Open Access 2015 | OriginalPaper | Chapter
Implementable Ethics for Autonomous Vehicles
Authors: J. Christian Gerdes, Sarah M. Thornton
Published in: Autonomes Fahren
Publisher: Springer Berlin Heidelberg
As agents moving through an environment that includes a range of other road users – from pedestrians and cyclists to other human or automated drivers – automated vehicles continuously interact with the humans around them. The nature of these interactions is a result of the programming in the vehicle and the priorities placed there by the programmers. Just as human drivers display a range of driving styles and preferences, automated vehicles represent a broad canvas on which the designers can craft the response to different driving scenarios.